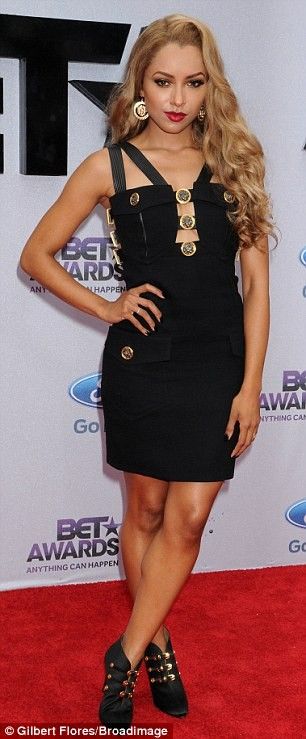 Gilbert Flores/Broadimage
They say imitation is the highest form of compliment, but Kat Graham, the last thing the fashion world needs right now is Miley Cyrus getting the impression that she's on the right track – especially with that ensemble! And for the record, if you're going to have a fashion face-off, don't aim for the lowest common denominator. Cyrus has her reasons for dressing like a harlot, but that doesn't mean it's a good style to match!

Fans did a double take as The Vampire Diaries starlet Kat Graham walked the red carpet of the BET Awards at the Nokia Theatre in Los Angeles on Sunday.
The 23-year-old starlet was clad in an almost identical vintage nineties Versace dress to one Miley Cyrus had worn the previous day at the iHeartRadio Ultimate Pool Party in Miami.
Except the Wanna Say singer's version was noticeably longer, featured pockets, and matching earrings.
Kat's cut-out mini was slightly less revealing and she skipped the choker that Miley wore.
Graham also opted to pair it with black bootie heels rather than classic pumps. (Read More)