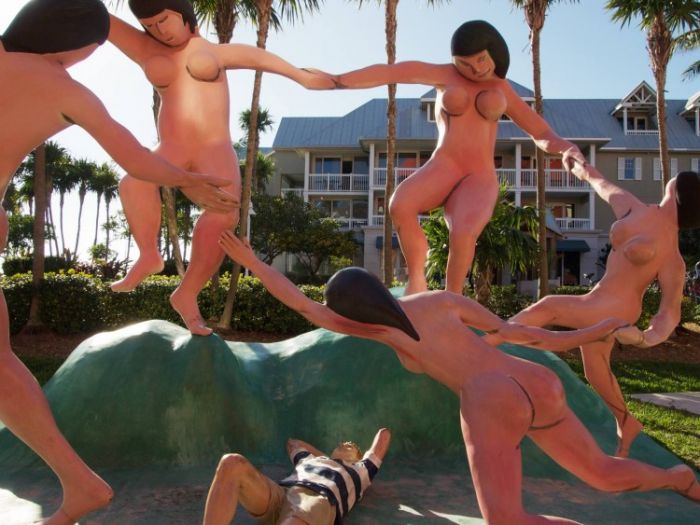 Columbia Hillen
Having a reputation as a rather boisterous vacation spot with loud street music and tightly-knit streets crowded with people, flavoured margaritas in hand looking for action, it is surprising to learn that Key West also packs more cultural attractions including museums, art galleries and playhouses than most US cities of similar size.
On a first visit recently, staying at the Ocean Key Resort & Spa and The Reach, a Waldorf Astoria Resort, we were delighted to learn that this southern Florida city has several significant playhouses, often hosting national touring shows, not to mention regular community-based stage productions, all within walking distance of most hotels.
We were very impressed with the Fringe Theater (www.keywestfringe.org) and the excellent performance by cast members of 'Seminar,' written by Theresa Rebeck, a drama emanating from the interaction of five people involved in creative writing classes. Equally impressive was the inventiveness and commitment of Monnie King, producing artistic director, and her colleagues, who had turned a simple upstairs room of Kelly's Caribbean Bar and Grill into a cosy, intimate theatre - just for this particular production. Speaking afterwards, we learned from Monnie about her group's collective philosophy, summed up in the catchphrase, "immersion theatre," meaning performances held in different settings that complement the particular play.
"Not having a permanent theatre, we adopted an innovative strategy," she explained. "Realising all we needed to host performances were chairs, lights and a flat space for a stage - basically anywhere with an electrical outlet, we began exploiting the fact that there are so many interesting, historic buildings in Key West, many of which would enhance the audience's experience. Thus, as the setting for the Tennessee Williams play 'Suddenly Last Summer' is a steamy New Orleans garden, we performed it in the Peggy Mills Garden of the The Gardens Hotel, complete with tropical heat, grand porches and lemonade. With 'Dinner' by Moira Buffini, we matched the setting by taking it from an extravagant manor in England to the sumptuous Woman's Club on Duval Street."
This season's plays carry on this tradition by offering intriguing venues – the elegant Victorian guesthouse, The Carriage Trade, and the newly restored 1907 Firehouse Museum.
A second show we attended was at The Red Barn (redbarntheatre.com), which, as its name indicates, is a modest, stand-alone wooden structure in a clearing at the end of a little pathway off Duval Street. A large crowd was gathered when we arrived, reflecting the theater's popularity, so we considered ourselves lucky to have obtained tickets for the one-woman show, 'Tea For Three'. In an impressive performance, Emmy Award-winning actress, Elaine Bromka, portrayed not one but three former Presidential wives - Lady Bird Johnson, Pat Nixon, and Betty Ford – as each revealed the personal cost of what Mrs. Nixon called the "hardest unpaid job in the world." Written by Eric H. Weinberger, the play was a witty and intimate re-imagining of three women about their experiences after suddenly finding themselves world celebrities. With a quick change of costume and minimal stage props, Bromka imitated, both in voice and mannerisms, the three women marvellously.
Another prominent theatre in Key West is the Waterfront Playhouse on Mallory Square (waterfrontplayhouse.org/), Florida's oldest continually running theatre for 65 years. Unfortunately, it had no production while we were there.
It must be admitted here that we felt we couldn't leave Key West without experiencing the more risqué side of its cultural life, at one of the ubiquitous drag clubs, so we slipped into 801 Bourbon Bar (www.801bourbon.com) for a salacious evening. Outlandish, sequinned costumes, suggestive dancing and singing and comedic, naughty interaction with the audience made for a most entertaining outing. 801 also hosts a unique version of 'drag queen bingo' every Sunday, which garners much praise. La Te Da (www.lateda.com/cabaret.html) also attracts high marks for its cabaret show.
Of the museums, the most interesting - and not just because I once held the same reporting position as the man himself on The Kansas City Star Times - was the Ernest Hemingway Home and Museum (www.hemingwayhome.com). A sprawling, well-furnished, two-story wooden structure furnished with a 17th century walnut cabinet, old paintings, lithographs and a chandelier collection with his personal writing room and a swimming pool in the rear, it provides insights into the flamboyant lifestyle of the Nobel prize-winning author during the ten years he lived here. 'Boston Bob,' one of the guides, provides a snappy, dry-humored, often irreverent, overview of the great man of letters, which is as entertaining and memorable – if not more so - than the biographical information he imparts. The museum's friendly events director, Dave Gonzales, a returned native of Key West, is a mine of information on the locale and Hemingway's life here as I learned after a delightful one-hour conversation seated beside him on the outdoor porch.
Being on the Gulf of Mexico and with shipping playing such a major role in the economic and social development of Key West, it is not surprising that several museums focus on the city's maritime heritage. In this respect, two museums are worth a visit. The Key West Shipwreck Treasures Museum (www.keywestshipwreck.com) shows how Key West became one of the richest town's in the United States. Combining the skills of guides-cum-actors, film documentation and actual artefacts - including items from the 1985 rediscovery of the wrecked vessel Isaac Allerton which sank in 1856 on the treacherous Florida Keys reef – the museum gives insights into the unusual industry of shipwreck recovery and how such activities provided the livelihoods for many of the early pioneers in this part of southern Florida.
The Mel Fisher Treasure Museum (www.melfisher.com) tells the particular story of this one sea adventurer and his finding of the 1622 wreck of the Spanish galleon Nuestra Se?ora de Atocha and the estimated $450 million gold and silver cache known as 'The Atocha Motherlode.' In addition to the Atocha, Fisher's company, Salvors Inc., also found remains of several other shipwrecks in Florida waters, including the Atocha's sister galleon, the Santa Margarita, lost in the same year, and the remains of a slave ship known as the Henrietta Marie.
One event not to be missed, for sheer good humor and local flavor, is the annual Conch Shell Blowing Contest held at Key West's Oldest House Museum. Organised by local people, including the Old Island Restoration Foundation and a lively Carol Shaughnessy and the Florida Keys News Bureau (media.fla-keys.com), women, men and children of all ages and from many states and countries, take their places on a makeshift stage in the back garden, pucker up and attempt to 'outblow' each other. The result, often less than melodious, can be hilarious, as are the creative exchange of comments by both participants and audience. Blowing conches as a mode of communication dates back centuries in Key West.
While most places in Key West can be reached by foot, two popular modes of transport are also available, with added specialty tours. The Old Town Trolley of Key West (www.trolleytours.com/key-west/) brings guests on a general sightseeing tour of Key West, a convenient way to get acquainted with top attractions and listen to local lore, well as more specialised ones such as its 'Ghosts and Gravestones' tour that takes guests to many houses and landmarks where ghostly sightings have been reported, including the burial grounds of former slaves and a Civil War fort supposedly haunted by a strange, diminutive character - a doll named Robert. The other transport option, by the same company, is Conch Tour Train.
Hungry yet? Try the Strip House, a steakhouse with a rich, red interior designed by David Rockwell and backlit Studio Manasse photographs, or the Palm Haven restaurant at the the DoubleTree Grand Key Resort that features delicious seafood chowder served either indoors or outside on its Osprey Verandah. Conch fritters with unique cocktails such as Casa Key Lime Colada, Sunrunner and Southernmost Mojito make for an enjoyable lunch at Sun Sun at Casa Marina Resort, on the edge of the seashore.
After such cultural and cuisine immersions, we decided a relaxing cruise might be in order. For this particular activity, we chose what proved to be a most enjoyable 'Wind and Wine Sunset Cruise' on the Gulf with 'Danger Charters' (www.dangercharters.com). Thank goodness the boat departed and docked close to our hotel. An hour or so later after six or seven assorted glasses of potent red and white with a beautiful sunset enhancing a most romantic setting, a long walk home might not have been too terribly convenient.  
Columbia Hillen
Columbia Hillen
Columbia Hillen
Columbia Hillen
Columbia Hillen
Columbia Hillen
Columbia Hillen
Columbia Hillen