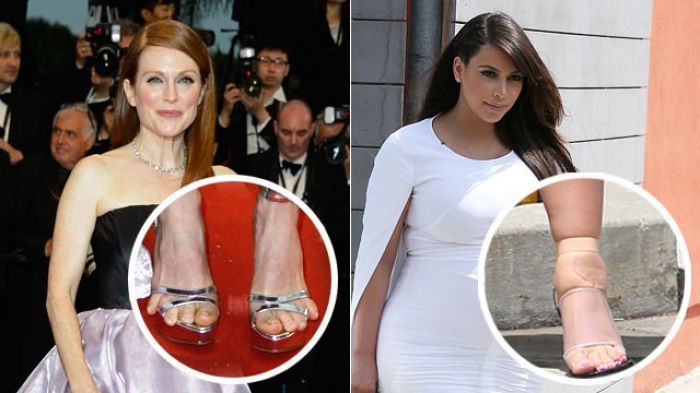 Image courtesy Getty Images
It's one of those painful facts of life that with fashion comes sacrifice, but ladies, there's a line to be drawn and evidently Kim Kardashian and Julianne Moore missed the memo: not everyone needs to fit Cinderella's slippers. In a fashion blunder that evokes a strong "ew" the two celebrities dawned luxury shoes a few sizes too comically small.
Kim Kardashian and Julianne Moore seemed to have gotten off on the wrong foot this week when both the reality star and actress stepped out in ill-fitting, high-fashion footwear.
Moore, 52, made the wrong impression at the Opening Ceremony of the 66th Annual Cannes Film Festival on May 15, 2013, when her toes were seen creeping over her strappy silver stilettos. This really took away from the actress' stunning Dior gown.
The very next day, a pregnant Kardashian, 32, went to meet her mother Kris Jenner for a Los Angeles lunch in a gorgeous all-white getup, but cameras couldn't help but notice the fashionista's super swollen feet that she had crammed into a pair of wedges. (Read More)