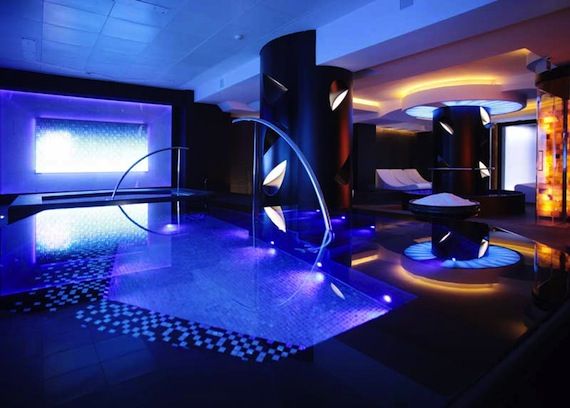 Romeo Hotel
There is an air of excitement in the historic seaside city of Naples as it welcomes its first true luxury spa, La Dogana del Sale. Housed within the world renowned Romeo Hotel, La Dogana del Sale certainly seems to be a natural fit for the five star boutique hotel with its ultra-luxurious, high tech facilities and immaculate design. Like the hotel, every detail within the spa has been created to perfection.
From the first step into the 10,000 square foot oasis, guests are immediately transported into another world. And this is no ordinary world... Here, in the realm of Dogana del Sale, crystalline droplets of water float amidst dramatic backdrops of black granite while shimmering white gold mosaics intermingle with Japanese wood, ceramics, and waterfalls. Even  the most seasoned of the spa elite cannot help but be delighted by the beauty and feeling of luxurious indulgence.
As beautiful as it may be, Dogana del Sale is much more than just a striking design masterpiece. Integrated into the entire design is the latest, most sophisticated technology currently available, all dedicated to health and wellness. The spa area includes an Infrared Sauna with Himalayan pink salt walls, Finnish sauna, thalassotherapy Hammam, 3 thalassotherapy pools, salt room, frigidarium and tropical rain shower. 
One of the highlights of the spa is the infrared sauna, the walls of which are covered with glowing pink Himalayan salt. The sauna utilizes a technologically advanced system that emits infrared rays that painlessly penetrate directly into the skin up to 2 inches, resulting in a deep, detoxifying sweat at low temperatures. With moderate temperatures of 104°-140° (40-60 °C), the sauna promotes complete muscle relaxation, detoxification, and psychological well-being, enabling the body to expel 80-85% of excess water, 15-20% of toxins including cholesterol, acid, sodium, ammonia, and carcinogenic heavy metals. An added bonus is that it also burns calories! How many? According the Journal of the American Medical Association, a 30 minute infrared sauna session can burn up to 300 calories. 
In addition to the spa facilities, there is also an extensive menu of treatments available, including massages, facial and body treatments, plus special hotel packages for those wanting to extend their indulgence into an overnight, or longer, stay. For those wanting just a short spa break, Dogana del Sale also provides a chauffeur service in one of their luxury cars. Maserati, Jaguar, or the brand new Bentley? Take your pick. 
Want to have a day at the spa but have children that need tending to? No problem. There is also a kids area and babysitting service run by fully trained staff.
The only problem? It is difficult to leave. Luckily, however, those who cannot pry themselves away from this wellness retreat can wander upstairs and continue their luxurious pampering at the hotel's opulent 
Beluga SkyBar
, 
sushi bar
, 
Il Comandante
 fine dining restaurant, or book one of the rooms or suites and simply enjoy the stunning views of Mount Vesuvius and the Bay of Naples. 
Romeo Hotel
Entrance to the Spa
Romeo Hotel
Reception Area
Romeo Hotel
Fountain in Reception Area
Romeo Hotel
Hall Leading to Spa Area & Treatment Rooms
Romeo Hotel
Kneipp Treatment
Romeo Hotel
Hammam / Turkish Bath
Romeo Hotel
Finnish Sauna
Romeo Hotel
Frigidarium
Romeo Hotel
Courtesy Car