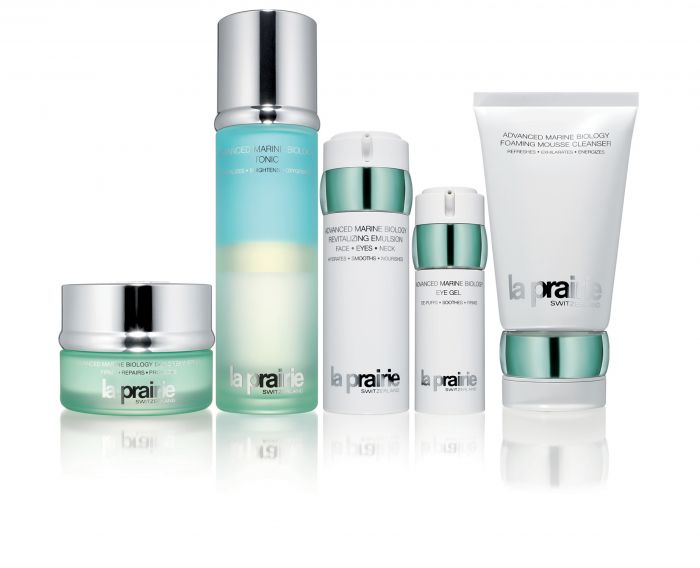 LaPrairie
La Prairie has recently expanded the Advanced Marine Biology Collection,an eco-conscious skincare collection featuring the protective powers of the sea via aquaculture technology. The collection is perfect for the eco-conscious beauty lover who doesn't want to sacrifice luxury.
First introduced in 2007, La Prairie has expanded theAdvanced Marine Biology Collection, which features ingredients inspired by the sea, but with the technological aid of aquaculture so that sea life remains undisturbed.
Céline Cousteau, Founder of CauseCentric Productions,granddaughter of the legendary Jacques Cousteau and Special Ambassador for the Advanced Marine Biology Collection, says, "Life is about choices – whether it's using a recycling bin, eating sustainable seafood or purchasing products that make a conscious effort to protect our environment. I am proud to be affiliated with the Advanced Marine Biology Collection, as it gives consumers the skincare option of a versatile collection of multi-tasking, high-performance products with healthy ingredients that are not depleting our environment."
As something of a "green" beauty lover myself, I was privileged to try the collection, which is lightly fragranced and colored in aqua hues. The luxury products never left my skin feeling weighed down or greasy, yet still managed to feel like they were sinking in and working.
Products in the expanded range are suitable for both active men and women who enjoy spending time in the outdoors, but don't want to look like it. La Prairie President Lynne Florio explains, "The expanded Advanced Marine Biology Collection not only places an emphasis on preventative skincare but also on the importance of marine preservation. We are extremely proud of the collection and all it stands for."
The new products in theAdvanced Marine Biology Collection include:
*NEW / October 2011* Advanced Marine Biology Revitalizing Emulsion FACE • EYES • NECK
A lightweight, cream-gel moisturizer with triple-use function for the face, eye area and neck – suitable for day or night. Various algae help strengthen skin's defenses and minimize signs of aging; help fight aging while a hydra-restructuring effect takes place as the skin's layers are densely moisturized, giving a look and feel of greater firmness.
Suggested Retail Price $135.00 / Size 50 ml / 1.7 oz.
*NEW / October 2011* Advanced Marine Biology Eye Gel
A cooling cream-gel that combats eye area puffiness and wrinkles while increasing skin firmness. Oat Kernel Oil and a Red Algae provide firmer, smoother skin; Buckwheat Wax and Caffeine help reduce puffiness while a Green Microalgae Oligopeptide improves the appearance darks circles and spider veins.
Suggested Retail Price $105.00 / Size 15 ml / .5 oz.
*NEW / October 2011* Advanced Marine Biology Foaming Mousse Cleanser
A gentle and refreshing cleanser that removes all impurities while energizing and maintaining skin's mineral balance without stripping the skin of its natural moisture. Formulated with a mild natural cleansing agent derived from coconuts and conditioning sea-sourced plants.
Suggested Retail Price $65.00 / Size 125 ml / 4.2 oz.
Existing products in the range are still available:
Advanced Marine Biology Day Cream SPF 20
A lightweight everyday cream that repairs and protects the skin against free radicals and premature aging. A firming aquaculture complex stimulates collagen production to improve firmness and elasticity.
Suggested Retail Price $175.00 / Size 50 ml / 1.7 oz.
Advanced Marine Biology Tonic
A triple phase conditioning tonic brightens and evens skin tone while firming and improving elasticity; the tonic's proprietary therapeutic delivery system infuses oxygen into the skin to activate cellular energy and circulation.
Suggested Retail Price $95.00 / Size 150 ml / 5.0 fl . oz.
http://www.shoplaprairie.com/default.aspx
LaPrairie
Advanced Marine Biology Day Cream SPF 20
LaPrairie
Advanced Marine Biology Eye Gel
LaPrairie
Advanced Marine Biology Foaming Mousse Cleanser
LaPrairie
Advanced Marine Biology Revitalizing Emulsion Face ? Eyes ? Nec
LaPrairie
Advanced Marine Biology Tonic
LaPrairie
Celine Cousteau