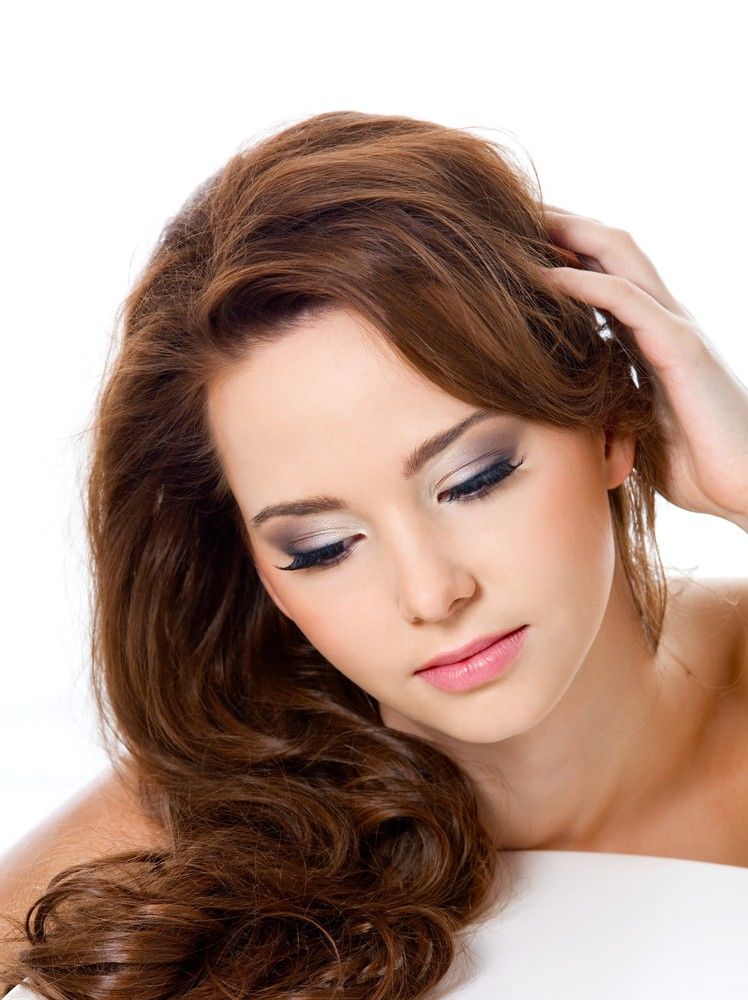 shutterstock.com
If you've always wanted to have thicker, fuller, stronger and longer eyelashes and look like a celebrity every single day, then eyelash growth enhancers may be the answer. Not only are these products cheaper than other options like eyelash extensions, they are one of the biggest trends in the makeup and fashion industry today giving you eyelashes that will make your eyes look, brighter and bigger so people notice you wherever you go.
Before attempting to use over-the counter eyelash growth enhancers like serums, it is important to find out all there is to know about them from the ingredients in them to the best eyelash growth product to use; from knowing how to apply the enhancer to the possible effects they may cause. This can save you from any unnecessary problems in the future.
How to apply eyelash growth products properly
Ophthalmologists often advise women wanting to use eyelash enhancers to monitor their eyelash growth because, for optimum results, it is better to use these products when the eyelashes are still growing because they will be sensitive and fine.
Wash the face to ensure it is makeup, dirt and oil-free, so the enhancer can easily penetrate the eyelash follicles.
Rub in a pea-sized amount of serum on both lashes and wipe the extra liquid so it does not have eye contact.
Most eyelash enhancers need to be applied on the upper eyelid on the top of the eyelash line, and never on the lower eyelid or you feel eye irritation.
It may take 4-8 weeks for the results to be visible, so it is best to follow the instructions on the product.
The best eyelash growth products
There are many eyelash growth enhancers to choose from, so proper research should be done before opting for one, especially since eyelashes are delicate and gentle, and must be looked after properly.
Some of the best eyelash growth products available include:
1. Maxolash
Manufactured by the well-reputed Dermagevity Cosmeceuticals, MaxoLash is one of the best eyelash growth products (100% natural) available today with no paraben preservatives or fragrance and is clinically tested. It contains vitamins and proteins, so it is PH-balanced and is applied like a mascara to strengthen eyelashes so they grow quicker and become fuller in 3-4 weeks is used even once a day. Maxolash can also be used under mascara and on the eyebrows. It has a money back guarantee and a patented formula.
2. Idol Lash
Idol lash is made up of natural ingredients like proteins, polypeptides, vitamins, revitalizing and nourishing agents, and are said to thicken the eyelashes within 2-4 weeks up to 82%. This eyelash growth product is fragrance free and not tested on animals. Backed by the Natural Products Association, Idol Lash is suitable for use on the eyebrows as well. The downside is that there are no independent reviews of this product.
3. City Lash
City Lash promises thicker, longer and more beautiful eyelashes within 42 days, and it delivers. Known for its eyelash growth stimulation and its unique formula, this eyelash enhancer is safe, no matter how sensitive your eyes and skin are increasing the eyelashes natural life cycle. The old and new lashes grow together leading to a more dramatic pair of eyelashes. It is scent-free, natural, cruelty-free and cost-effective.
4. Revitalash
Made by Athena Cosmetics, a supporter in the fight against breast cancer, Revitalash is applied once daily at night with a brush applicator and claims to lengthen and thicken eyelashes within 3-10 weeks. It comes with a 90-day money back guarantee, but contains chlorphenesin and phenoxyethanol which may cause side effects.
5. Rimmel Lash Accelerator
The Rimmel Lash Accelerator, if used every day for 30 days, claims to lengthen, rejuvenate, condition and strengthen eyelashes 80-117%. This clear, quick drying gel serum works round-the-click containing an advanced extra lengthening formula that can also be used under mascara, on lash lines and eyebrows. The only downside is that it is a little difficult to apply, but with a little practice, the problem should be solved.
Strengths of eyelash growth serums
1. When applied regularly, an eyelash growth serum can enhance eyelashes and help them grow naturally so they are stronger and thicker.
2. An over-the-counter eyelash growth serum is a cheaper option as compared to eyelash extensions.
3. The best eyelash growth product will contain a blend of natural ingredients
4. According to studies, a good eyelash growth serum may increase the eyelash line up to 70%.
5. Some eyelash growth serums may even act like conditioners.
Possible side effects of eyelash growth serums
Although there is a wide variety of eyelash growth products available in the market, possible common side effects may include:
1. Slightly darkened skin (pigmentation) on the eyelid or iris
2. Redness
3. Mild eye irritation
4. Itchiness
5. Undesirable growth of hair where used
6. Impact on the pressure of the eye.
If you suffer from any of the above side effects while using even the best eyelash growth products, discontinue till the side effects disappear.
Where to buy
Eyelash growth products are available at local retail shops, especially those that deal with makeup and its accessories, eyelash growth brands websites and online shopping sites like Sephora.com, eBay.com and Amazon.com.
Conclusion
Over-the-counter eyelash growth products are available in the market and being used because these serums are, indeed, effective and if applied correctly over the given period of time can do wonders. There are a number of products to choose from, so choose wisely after doing the appropriate research, and you, too, can have fuller, longer, thicker and more dramatic eyelashes.