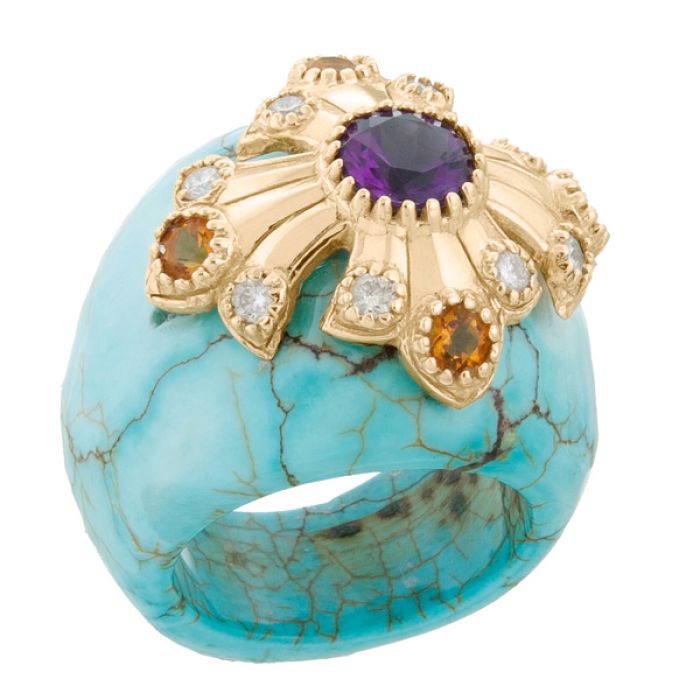 Tiro Jewelry Design
Tiro Jewelry Design is as bold as the designer behind the line, Orit. Not for the faint of heart, Tiro is for bold fashionistas that aren't afraid to take a style risk.
With a "no rules, " philosophy, Orit creates jewelry for men and women that don't shy away from big, bold pieces. With a use of gems and jewels that conjure up images from The Arabian Nights, Orit envisions her lavish pieces on the likes of risk-taking red carpet walkers like Madonna and Lady Gaga. But for now, she's content to see them paired with an evening gown or daytime denim.
From her Florida-based studio, Orit sources gems and precious metals from all over the United States, transforming them into works of art. Orit's sources of inspiration are infinite, from a staircase that can become a ring, to page out of magazine that may be a necklace.
While she works primarily with 14k, Orit is willing to customize pieces for clients that prefer 18k or 22k metal and will even switch out stones to accommodate personal taste. While the gems and metals may change, Orit is firm that her design stays true to her own aesthetic, rather than creating completely new pieces for a customer.
In addition to the indulgent and fastidiously engraved jewelry collections for men and women, Orit is also introducing a line of jewelry for pets. Filled with leather and gold, the new collection is "more artistic" than the diamond collars typically found in the luxury pet apparel arena.
The designer's decadent designs can be found at http://www.tirojewelry.com/.