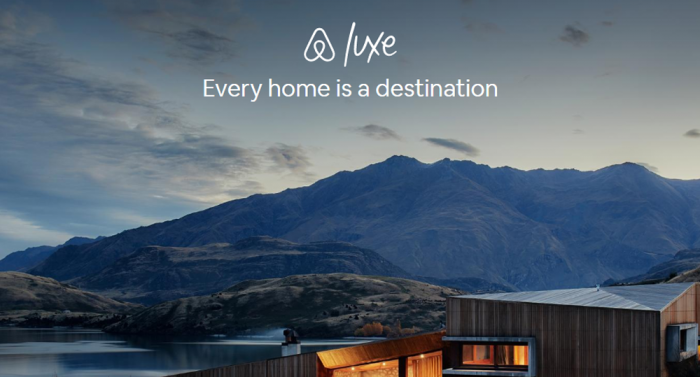 Airbnb Luxe
Let's face it – we only get one shot at this life we have here on earth. People talk about their bucket lists, but how about a "Gotta do once before I get to the bucket list talk"?
Quiet unassuming, Brian Chesky and Joe Gebbia were setting up airbeds for guests in their San Francisco apartment. That was when lightbulbs lit up in their heads and they came up with a real brainstorm.
Once they got it into motion, they wait with trepidation for the bad news. Wow! Even they could scarcely believe the reception and the resounding success of "little" idea that just sparked in their minds as they tried to prepare their living room for guests.
You have hotels – everything from cheapos to the most luxurious hotels. True, plenty of those all over the world. And you've probably stayed in some, if not many.
But how about enjoying a luxury honeymoon where you can sit back in your "own" romantic villa by the seaside and just enjoy that special quiet time with the two of you without other guests coming and going.
Let's Take A Look At How It All Started
When they launched Airbnb, Joe and Brian decided this was going to be exclusively for vacations in the most outstanding, luxurious homes to be found.
Of course, that meant guests willing and able to cough out perhaps $1,500 a night or more to be able to live in their "own home" away from home.
Hey, we're talking big here!
How would you like ? just once maybe ? to have your own château in France for a night, or perhaps longer? Perhaps a penthouse in the Big Apple, a townhouse or villa and always more are there for the taking.
On the other hand, if you're a couple and both of you are into art and history, you could have a great little studio with a kitchen in the heart of the Marais for $78 a night. You can take a short walk to the Louvre and the Seine.
Or another is a newly decorated and renovated artist's apartment. This was not a DIY job but the work of a real architect. With accommodations for three, it has it all for your total comfort. And the best part is that this apartment is simply flooded with light. Everything you need or want for, at this writing, $130 a night.
Try finding a decent hotel room for three at anything like that – Airbnb has plenty more like those mentioned. All you have to do it let the guys know when and where and they'll do the rest.
And Here Comes The Luxe
This features at least 2,000 rentals accomodations from all around the world. Every Airbnb Luxe destination guarantees luxury that you'll find well worth the price you'll pay ? perhaps once in a lifetime, but oh! what memories you'll have.
Some of these villas and châteaux can house as many as twenty guests, so if you're going to divide up the expense, it's going to be something like less than living at home. These are luxury homes, all in pristine condition and for most of us, the only time in our lives that we'll reside in such opulent luxury.
I mean, homes such as you used to see on Lifestyles of the Rich and Famous and on those occasions when movie stars gave us a tour of their homes.
Yes! We're talking real châteaux such as the Château d'Estoublon in Provence, France. This is a real manor home with a regal history. It's so unbelievably spacious and fabulously decorated you'll be afraid you're in the wrong place.
In Italy, you can rent an entire medieval village with accommodation for up to 44 guests. Can you imagine hosting a family reunion in this quaint village? At a little over $23,000 a night it's a bargain. A home in Punta Mita, México will set you back $60,410 and can only accommodate up to eight visitors.
But, as they say on TV, Wait! There's more!
I'm sure there are a few of our readers here who are interested to host their places. Here are a few great tips that can make your own home look luxurious without using up all your credit cards:
1. Read up!
Get some magazines or books from your local library and learn some of the differences that separate the junk from the timeless. There are also some great home improvement sources out there that you can view online. Each of these websites has different approach and advice, but what you need to aim is the "timeless". Timeless means next year when everybody switches back to the Mediterranean from Colonial, you'll be serene in relaxing on your timeless upgrades, good quality stuff that's not only classic but will still be around when today's popular improvements have fallen apart.
2. Your furniture doesn't have to "match".
Good furniture (within limits) will look good with any other good furniture. French styles can be combined with English styles and/or German as well as most European styles. Modern Danish and Swedish may not mix too well, save perhaps for that accent piece.
3. Gold mine in thrift shops
If you're not too snobbish, you can often find great buys at thrift shops. You'd be amazed at the really wonderful furniture and accessories such as lamps, vases, etc., that people throw out. Sometimes upon the passing of an elderly relative, they just give everything to the Goodwill or St. Vincent de Paul.
And sometimes too, you can pick up a $5,000 couch in great condition for $100. Just examine it carefully and turn the cushions.
4. Compare services and contractors
The bottom line for home improvement is to do your homework so you know quality and condition as well as value when you see it. Don't be afraid to ask a few different service providers and contractors. From there, you can see and compare what they can offer. Choose the one that gives you the best value out of your budget and doesn't cringe on quality.