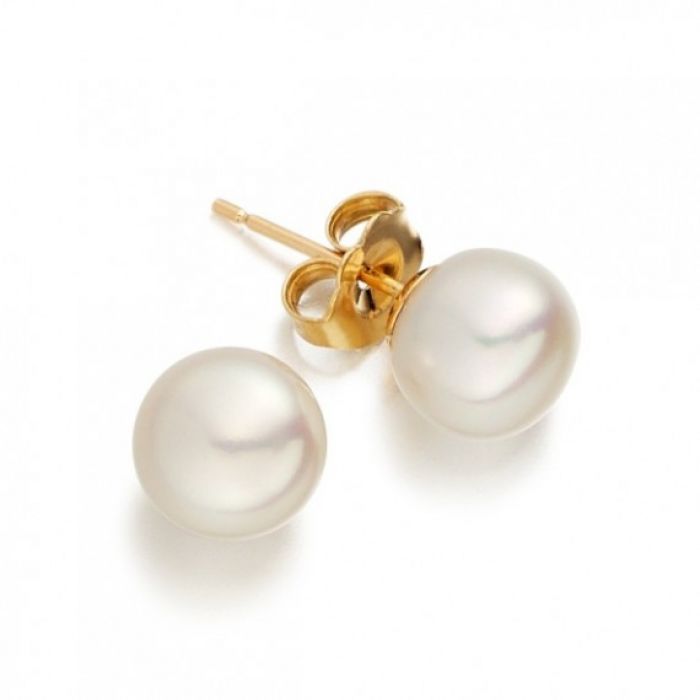 Pearl earrings have been placed firmly back on the fashion agenda this summer. A classic piece for any jewellery box, the pearl earring, in its various guises, has been boosted by the 'Kate effect' after being spotted adorning many of the closely watched outfits of the Duchess of Cambridge during the London Olympics coverage.
A prized item, the pearl is available in a variety of colours, grades and lustres. Freshwater, saltwater, farmed and natural, they all offer a timeless addition and a life of wear to your collection. The broad range of colours and hues should be taken advantage of when buying pearls to find the tone which will really complement your personal style and skin tone. The classic pearl earring falls in to two main categories, the stud and the drop.
These earrings are a perfect example of the classic stud. The Park Avenue Stud from New York design house Manhattan Pearls is available exclusively from Astley Clarke London. The earrings are gorgeouswhite cultured freshwater pearl studs. Ideal for a first foray into wearing pearls would be the ideal choice for bridal and bridal party wear. Featuring a pretty white pearl which measures between 5 & 7mm in width, these designer earrings are set with a 14ct yellow gold ear post. This design is pictured in classic white pearl but is also available in Peacock, Silver-grey and Pink with matching rings, bracelets and necklaces to complete the Park Avenue Princess look.
These beautiful diamond and pearl earrings in 18 carat white gold are from Astley Clarke Couture. These stunning pearl earrings feature a single pearl drop suspended from a diamond pave creole. The designer earrings have a total drop of 27mm and measure approximately 12mm at their widest point. This design seamlessly blends modern sensibilities with classical simplicity and is a dead ringer for the pair worn by the Duchess to watch the men's gymnastics. This design is also available in black diamond, perfect for autumn and winter.
For a more daring drop for evening wear, these silver grey freshwater pearl earrings with diamond pave ball are a fantastic design, pretty, elegant and simple. Completely wearable as well as being a great statement piece, these earrings are also from Manhattan Pearls, available exclusively from Astley Clarke. Another timeless design that is utterly chic, the Juliette Pearl earrings feature a pave diamond ball set in sterling silver.  These designer pearl and diamond earrings from Manhattan Pearls beautifully reference an era of unparalleled style with a modern approach to wearing pearls. They are also available in other colours including the beautiful Peacock, really allowing you to match your pearls to your skin tone and wardrobe.