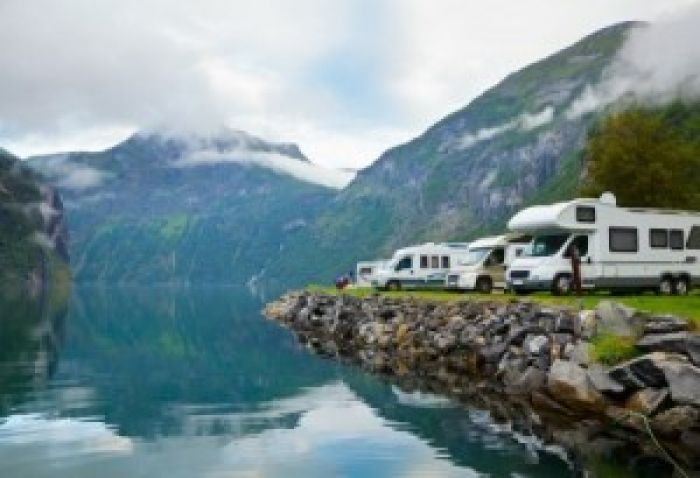 When using the words "luxurious" and "recreational vehicle" in the same sentence, you'll inevitably find yourself looking for the best of the best or a Class "A" motorhome. RVs are generally available in three classes: C, B and A. Each of these classes has its own general price point and available features.
When shopping for luxury, keep in mind that it does often come with an elevated price tag and purchasing even a used class A RV can cost you anywhere from $60,000 to $150,000 and up. Before making any final financial obligations, learn what you should look for in a Class A model, some of the best in the marketplace and how to secure a great deal.
Your Basic Class "A" RV
Technically speaking, a Class A motorhome or recreational vehicle is a self-contained bus or box-style vehicle with a large chassis. When you see a rock star on television riding between gigs on his North American tour, undoubtedly he's traveling in style on a Class A motorhome. Many of the newer models or those produced after 1989, feature slide-outs, which provide you with more room, without compromising your ability to travel. In general, your Class A RV should feature all the creature comforts of home, including a kitchen, bathroom, entertainment center, heating and air conditioning. As your price point rises, so do the outrageous and luxurious extras. Some of the most expensive models even feature granite countertops, gas fireplaces and built-in, high definition televisions.
The Best on the Market
There are several Class A motorhomes available on the market and a gigantic price tag doesn't necessarily translate into the most luxurious model or smoothest ride. Here are a few top of the line models to consider purchasing:
· 2012 Winnebago Journey 36 M – This is far and away one of the most fully equipped, luxurious motorhomes on the market. Not only can you trust the Winnebago name, the Journey 36 M offers several comfortable features, including 6 cylinder Cummins diesel engine, leather bucket seats, room enough for a queen-sized bed and many other impressive options. Unfortunately, all of these upgrades don't come cheap; a base model will run you around $247,000.
· 2012 Winnebago Adventurer – If you cannot quite afford the Journey 36 M, then consider any of the popular Adventurer models. Aside from the fact that many are around half the Journey's price, they're also still nicely equipped and will get you from point A to point B in style and comfort.
· 2012 Thor Motor Coach ACE EVO 29.1 – Thor is another popular name in motorhomes and its latest incarnation of the ACE EVO is guaranteed to knock your socks off, especially when you get a load of the price tag. The interior is beautifully equipped, the exterior is striking and you'll receive a variety of amazing upgrades for the price, including a rearview camera and beautiful cabinetry. All of this luxury and the price is often cheaper than some Class C models. Look around for a great deal and don't be surprised if you spend less than $70,000 for your ACE EVO 29.1
Buying Your Next Luxury RV
No matter if you're a novice or seasoned RV buyer; there is always room for a little extra education. If you're planning to purchase a Class A motorhome in the future, here are a few tips and tricks to ensure you don't drain your bank account, or purchase a model that you cannot resell in the future:
· Know your brand – Some of the most reputable, well-known brands will still disappoint their consumers in the end. Nowhere is this felt more acutely than when it's time to service your RV. Before making any final decisions, make sure the brand features a comprehensive network of authorized dealers, as these will offer you the speediest and least expensive repair options.
· Buying an Extended Warranty – In general, if you plan to keep your motorhome for several years, it's not the worst idea to buy an extended warranty. Just remember that the warranty becomes useless if the vehicle is sold.
· Checkout the layout – Remember that just because you enjoy having the bathroom at one end of the vehicle and the driver's seat at the other doesn't mean future purchasers will feel the same. A desirable layout is just as crucial as the RVs amenities and upgrades, so keep this in mind if you plan on making selling your motorhome in the future.
Finding the best luxury RV that fits your preferences and budget is a potentially difficult, and costly, venture. Many manufacturers will build you a customized motorhome that fits these specifications for example Arbogastrvs.com, but be aware that you'll pay a premium for this level of specialization. In the end, if you have the budget and plan on enjoying your RV for several years, customization might be the best path for you.
This post was written and contributed by Tim Simis who has been traveling the country in his RV for over 10 years.