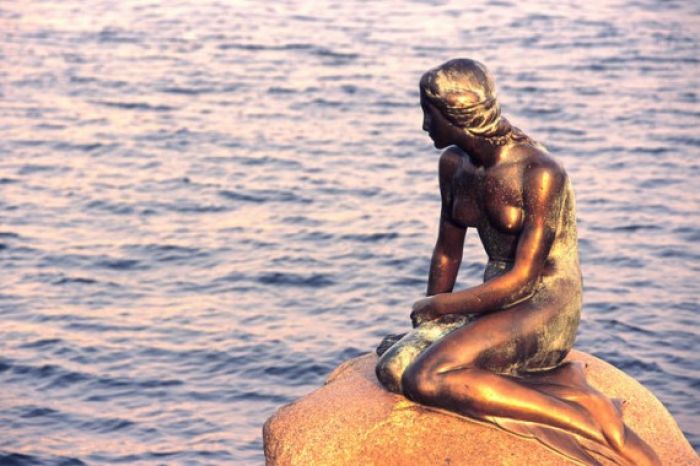 Copenhagen has been called one of the most liveable cities in the world where a connection to the past co-exists with a lively contemporary edge.  Friendly, comfortable and socially progressive, Copenhagen is one of the most bicycle friendly cities in the world.
Tivoli Gardens
In Copenhagen, get your thrills with a ride on the Demon.  No trip to this city is complete without a visit to Tivoli Gardens, the city's famous amusement park and one of the most popular tourist attractions.  Estabilshed 1n 1843 it is one of the two oldest amusement parks in the world and an inspiration for Disneyland, Trivoli is ideally located in the centre of town.  Here you find a timeless atrmosphere with exotic Asian inspired architecture, lovely flower gardens and a wide range of entertainment including theatre shows, marching bands, live jazz, contemporary rock performances and, of course, thrilling amusement rides.
 
What makes Tivoli so special is the position -in the middle of Copenhagen and the combination of attractions - rides, gardens, culture, many elements in one place.

Be sure to stay into the night when Tivoli becomes a romantic fairyland with beutiful coloured lighting and fantastic firework displays.
Copenhagen Nightlife
For a different kind of amusement head out for artful cocktails and modern cuisine at the Cafe Ketchup.  This is the place to go before clubbing in Copenhagen,  Try light meals at the informal outer cafe or choose the pricier main dining room with its more sophisticated menu and open kitchen where you can watch the chefs create their materpieces. When the restaurant closes tables are pushed back and DJ's play their sets. Copenhagen's nightlife offers a huge variety of choice.
 
Karel van Mander (formerly Emma) offers plenty of variety under one roof. Housed in a nineteenth centuary town house, Karel spreads across several bars, lounges and dancefloors along with an open air terrace with couches and tables.  dance, drink or chill out its all here at this Copenhagen hotspot that feels like and exteded VIP lounge for the young beautiful people. The good thing about Emma is the open patio so you can walk out into fresh air and see the stars

In direct contrast to Karel is Nasa with an elevator that takes guest up into this legendary celebrity party club. A recent makeover has brought a new shine and high tech enhancement to an all white space age interior where an elite international crowd mingles and dance and savour champagne and exotic neon glowing cocktails. Nasa has existed since 1998 and still considers itself to be the hippest club in Northern Europe.  Three bars, futuristic furniture designed in organic shapes and an intimate dancefloor provides pure Copenhagen entertainment for those who want to see and bee seen.
Copenhagen is an internationally renowned design centre and has produced world class philosophers, atomic scientists, film makers and writers.

Speaking of design,  Radisson Blu hotels in Copenhagen are excellent examples of chic modern architecture that blends into the traditional buildings and streets of the city. 
Hotels
Thoughtfully designed by famed Danish architect Arne Jacobsen, the Radisson Blu Royal Hotel, Copenhagen is within walking distance of well-known Tivoli Gardens and popular Str?get shopping district.  An array of superior guest services and amenities includes everything from a convenient place to park upon arrival to ways to pamper the palate, work away stress, enjoy the city and take care of young travelling companion at this 5 star hotel in Copenhagen.
Retreat, relax and unwind at the five-star Radisson Blu Scandinavia Hotel, Copenhagen, where modern amenities abound. Indulge in a gastronomical experience at one of four restaurants, break a sweat in the fitness centre, or plan a day trip exploring city centre attractions.
Casino
The Scandinavia Hotel house the only casino in Copenhagen where guests can enjoy a unique and thrilling night out just steps from their hotel rooms. The casino radiates a cosmopolitan atmosphere, drawing an international crowd with a mix of hotel guests and chic locals.
Old Town Charm
Copenhagen, the city of Hans Christian Anderson and much more offers an abundance of pleasures. Go shopping along the the Ströget, Europe's longest pedestrian route on which skyscrapers are outlawed, keeping the city's progressive modern architecture on the same sightlines as its smorgasbord of charming canals, colorful row houses and impressive museums.
Looking for more?
Find out more about what to do and see in Copenhagen on Just Luxe. Explore histroy at an ancient fortress, the citadel, visit the waterfront gathering spot or just wander as many of the locals do.  Grab a bike and tour the beautiful city on two wheels - an eclectic array of sights beckons, from funky hippy kingdom of Christiana to splendid palaces.



 


Tivoli
Trivoli Fireworks
Royal Hotel
Waterside
Scandinavia Hotel