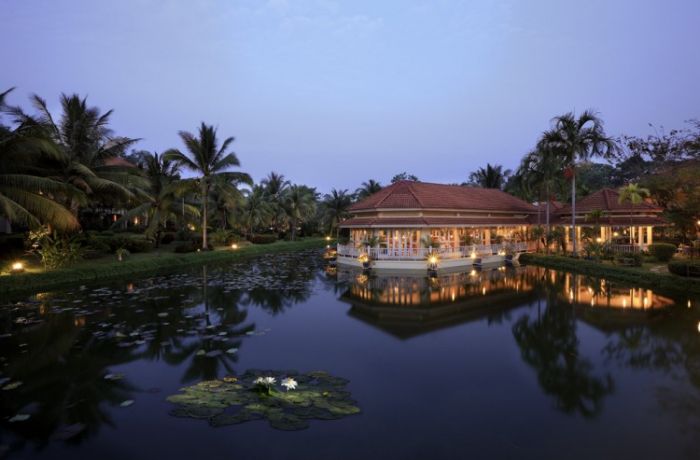 The Sofitel Angkor Phokeethra
Leave it to the French to make a swampy jungle tangled around ancient ruins a swoon-worthy luxurious escape.  The Sofitel Angkor Phokeethra Golf and Spa Resort, located just palm trees away from Cambodia's'UNESCO Hindu temple complexes (Angkor Wat), is another gem of the Sofitel's global collection of leading luxury properties. Here are my favorite aspects of this particular property tucked deep among Siem Reap's timeless temples. 
THE GOLF:  Golfing by Egyptian pyramids or Irish castles are par for spectacular courses.  The course at this Sofitel is no less world class, featuring a tee-off at an 11th century stone Angkorian Bridge, recently declared a world heritage site by UNESCO.  Opened in 2006 as the first International Golf Course of Cambodia, The Sofitel Angkor Phokeethra Golf course is a 72 par Championship course beloved by resort guests and well-heeled locals. 
THE GROUNDS: It's often difficult for an international hotel brand to create a localized look that is consistently authentic to a part of the world. Though even with 120 properties (and counting) across 5 continents, the Sofitel group pays keen attention to custom design at each of its resorts. The name of this particular resort,"Phokeethra," is a regional legend symbolizing peace and prosperity in Buddhist literature. Indeed, the entire grounds inspire tranquility with countless serene lagoons, bubbling pools, Buddhist inspired statues, and lush flora. Originally, the property was covered with rice paddies, typical of the area's natural landscape, and as such maintains the integrity of the original environment. Khun Vinai Virapuchong, the President of the Sofitel group, is said to have selected all the foliage of the 6 acres. I felt immediately at peace once I entered the property, especially after an afternoon in the bustling town area. Even inside each of the 238 rooms guests overlook a garden, pool or lake. 
THE RESTAURANTS: Though Siem Reap boasts numerous international cuisine destinations,The Sofitel Angkor Phokeethra Golf and Spa Resort is home to a stunning array of restaurants. I loved Mouthots Dream, the French meets localKhmer fare restaurant overlooking one of the properties' placid lagoons.  Dine outdoors from the early summer to early fall at the Citadel restaurant featuring international buffet style experiences aside Cambodian dance performances.  During the warmer months, afforded most of the year in Siem Reap's tropical region, is the fun Serpent Bar half submerged as a swim-up bar shaded by palms and rich wood paneling.  
NEXT TO COME: The Sofitel group continues its domination of the international luxury market with the opening of three properties in New Zealand, Bali and Shenyang in 2014. TheShenyang property, which will be located 20 minutes from the international airport, will showcase 590 rooms, a table tennis room, and a sharp squash court. 
The Sofitel Angkor Phokeethra
The Sofitel Angkor Phokeethra
The Sofitel Angkor Phokeethra
The Sofitel Angkor Phokeethra