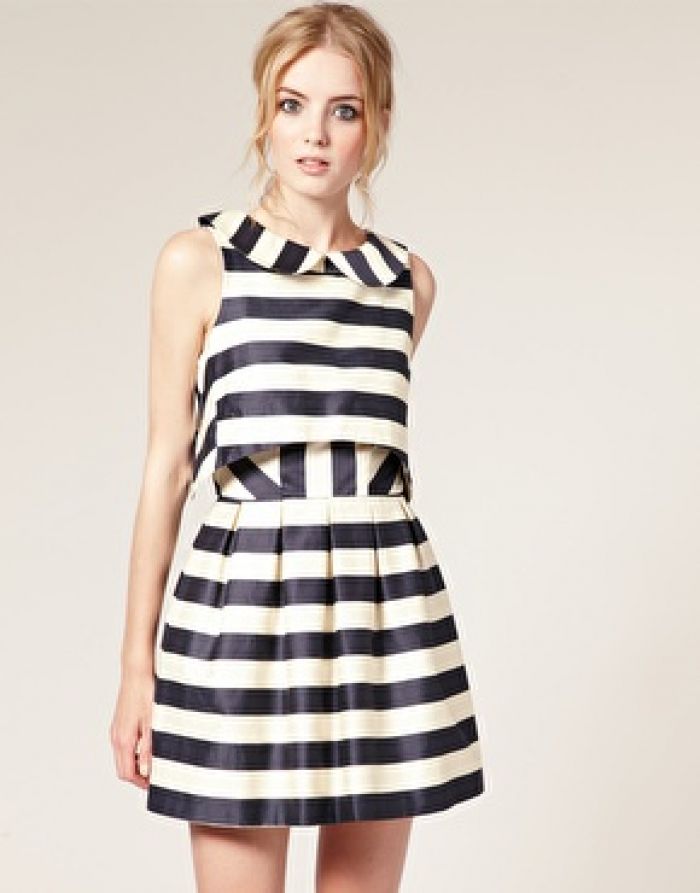 ASOS
The worst part about Halloween is buying the tacky plastic accessories that complete a costume, only to never wear them again. With these luxe additions, not only will your costume look better, but you'll also be able to incorporate them into your fall wardrobe.
If you want to get in on this year's Halloween trends, then go for pop culture looks including:
Lady Gaga—go popstar glam on Halloween with some crazy heeless shoes like Jeffrey Campbell's Studio 54-inspired version. Then whip 'em out again with an LBD on New Year's Eve.
Nicki Minaj-get a little wild and funky (and don't forget to pad the booty) with these sparkly pants. Then tone them down for a night out any day of the week by pairing them with a simple T-shirt and blazer.
White Swan-while everyone else is going with the black swan, switch things up with this tutu inspired party dress or try this super chic D&G black tutu mini-dress if you want to be more in keeping with the Halloween trend for the year. Either dress will be perfect for cocktails parties paired with tights.
If you tend to be more traditional with your Halloween costumes, then check out these accessories to make old standby's fresh:
Leopard Print Glasses—perfect for a hot librarian or cute nerd, these glasses will also be great for those days when you just don't feel like putting in your contacts but still want to look good.
Jailbird—this little striped dress works perfectly as a sexy twist on a lady jailbird costume—just add handcuffs. After Halloween, the adorable dress is a welcome alternative to a LBD for a casual date night.
Holly Golightly—a favorite with fashion lovers for decades, this epitomizes the necessity of a simple black dress in every woman's wardrobe. Wear it with a multi-strand pearl necklace, tiara and long opera gloves on Halloween and then make it modern for every special occasion you attend thereafter.
With these additions, not only will your Fall wardrobe be more complete, but your Halloween costume is sure to be the hit of the party.