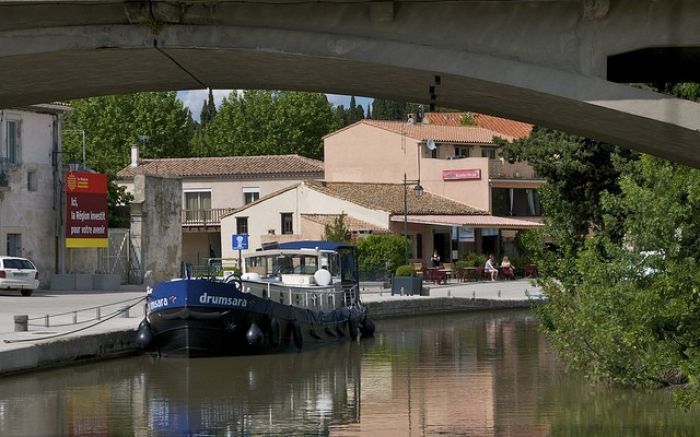 Drumsara on Flickr
If you have grown bored with overcrowded, tourist-riddled destinations and long for a peaceful, yet novel experience, you will likely enjoy a pleasurable cruise onboard a luxury barge through France. Smoothly gliding along the nation's historic canals, lined with emerald fields, picturesque villages, and castles of yore, you will experience the serenity and joie de vivre that encapsulates the authentic culture of France and its people.
The Fleets

For the seasoned traveller, weary of the traditional "one size fits all" cruise ship experience, the personalized service found on a luxury barge will come as a welcomed surprise.

A luxury barge is a traditional barge or "peniche" that has been lovingly converted into a floating five-star hotel, replete with lavishly decorated staterooms, private baths, spa tubs, and top-notch dining facilities. If you choose a premiere peniche like the Amaryllis by Afloat in France, you will also enjoy a heated swimming pool, ensuite marble bathrooms, and Louis XVI antiques.

Disembarking an ordinary cruise ship for an excursion often necessitates a long trek to shore, but your peniche-hotel is always close at hand. So close, in fact, that you can bike or walk alongside it as it travels at a leisurely pace.
Excursions

Luxury barges typically carry 4 to 12 passengers, better enabling the crew to meet personal preferences and needs. This includes custom designing your own itinerary. Whether you crave the hunt for truffles, a tour of an eclectic gallery, or an evening stroll along the towpath, this is your dream vacation to do as you please - and the crew is eager to make your wishes a reality. The fact that many of these vessels are available for private charter adds to their appeal, enabling you to hand-choose your travelling companions as well.

Whether you enjoy watching masterful artisans in action, visiting world famous wineries, soaking in historical venues, shopping in quaint boutiques - or all of the above - a luxury barge vacation has something to meet your every whim or fancy.
Food and Drink

A key ingredient to making your barge experience a luxurious one is the magnificent epicurean and vineal delights that are continuously on offer. A typical day involves a breakfast starring freshly baked pastries and artisan breads, a sumptuous lunch buffet, and the culinary highlight of the day - a formal dinner of traditional French cuisine, prepared by the onboard master chef.

And, of course, a steady supply of regional wines, specialty cheeses, and locally grown, fresh produce are always close at hand. An early riser can even accompany the chef on his daily excursions to the market and meet these purveyors of French delicacies firsthand.
Typically, the luxury barge season in France runs from April to October and barge vacations are seven days and six nights in length. Prices range from $3000 to $7000 U.S. per person based on a double occupancy. This price includes all meals and beverages, excursions, an open bar, and the use of all amenities including bicycles. You can book your cruise directly through the owner/operator or you can check out any number of travel booking sites that specialize in barge travel including Barges In France, France Cruises, or The Barge Connection. When booking a vacation, be sure to research your provider's business reputation and inquire about travel insurance.
It is widely said that once you have experienced life aboard a luxury barge, you will never be able to enjoy a traditional cruise again. The people you meet on your barge vacation will likely become friends for life. And you will long to tour the rest of Europe with the comfort, style, and gastronomical delicacies found only on a peniche-hotel. Bon voyage! And, bon appétit.

What travel tips, recommendations, and fond memories can you share with anyone planning a luxury barge vacation in France?