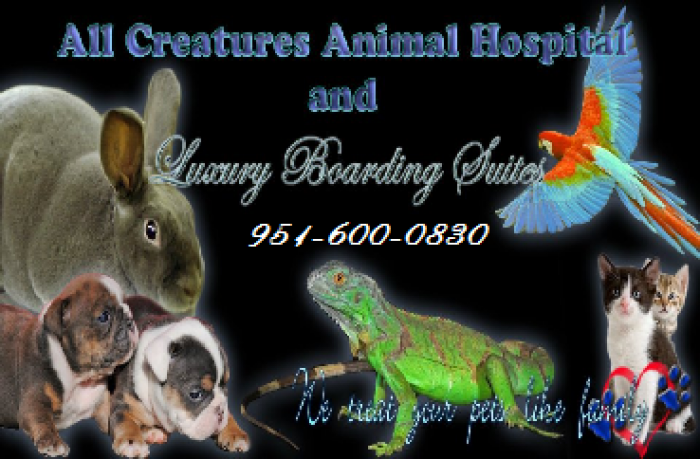 Not just for dogs and cats! We offer experienced veterinary care for exotics animals as well! Please keep yourself updated on our website; we're constantly updating our specials and pet health information. You can also join us on facebook and twitter to keep up with all of our specials and photo tags of our clients.
 
Established in 1997, All Creatures Animal Hospital and Luxury Boarding Suites understands the special role your pet plays in your family. Our goal is to practice the highest quality veterinary medicine with compassion and an emphasis on client education. Our team is committed to providing personal attention to the unique concerns of each individual animal owner. We know that your dogs, cats, iguanas, tigers, monkeys, chinchillas, ferrets, large birds, squirrels, wildlife, rabbits, pot-bellied pigs, boa constrictors, owls and even lions are more than just pets. They are part of your family.

Our 14,000 SQFT State-Of-The-Art facility includes pet boarding suites with Web Cams which allow you to view your loved ones! Our suites will make your pets feel right at home. Your cats will find our comfy cat condos purrrrfect! Our services include walks, playtime, special attention, treats, toys, and more!