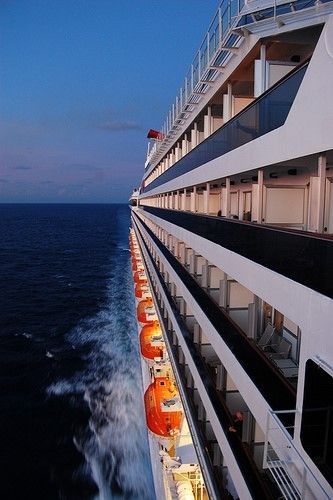 via Flickr
No one likes to work, and we all feel the need for a vacation -- but we don't always have the time, or the money, to sink on a week or two week-long adventure across Europe. For us unlucky souls that need a small dose of luxury to get ourselves ready for the upcoming week of work, here are four ideas to have a relaxing, vacation-like weekend getaway.
1. Cruise to Nowhere
While many people jump to cruises for vacation ideas, a week is a long time sink to put into something. For those of us that don't have a week to give up, try taking a short cruise to nowhere. That's right, no ports or stops anywhere, just a cruise to do what it was named for:  cruise.
Enjoy a few days of R&R as you enjoy the onboard restaurants, shops, swimming pools, and parties. And with such a short time commitment, you have a lesser chance of getting bored with the entire trip altogether.
2. Have a Romantic Getaway in New York City
New York City -- the economic capital of the world. Who doesn't want to just kick back and relax in such a busy city? Even if you don't live there, taking a loved one on a weekend trip to one of its amazing hotels, like the Roosevelt Hotel, is enough to make anyone fall in love with you all over again. You can check out Grand Central Station or the Grand Central Market and just lounge in your hotel room. 
3. Win Big in Atlantic City
Fancy a casino night with your friends or family? Head over to The Borgata in Atlantic City, New Jersey, and enjoy all the classic casino games you've come to love. You may even hit the jackpot, if you're lucky.
You don't even have to play to have fun there -- you can watch the pros work the tables and then go home and try their moves out online with Luxury Casino. The Borgata houses some great food, with restaurants by Bobby Flay and Wolfgang Puck. You will feel more than decadent in marbled bathrooms and high-end spas for you to just kick back and relax. 
4. Relax the Way You Know How in a Rental Home
I know, this doesn't sound amazingly luxurious -- but you would be surprised at how comfortable and fun renting a house for a weekend could be. Think about it this way:  it is as comfortable as your own house, but it has all the adventure of a weekend getaway at a hotel (not to mention a lot more space).
With a fully stocked kitchen and all the necessary accommodations, you can enjoy the freedom to read that book you've meant to get around to, or play that board game with your family. This is especially nice if you live in an apartment and don't normally enjoy the benefit of having a spacious place to rest.
A weekend getaway is a cure to the overworked soul that doesn't have the time or money to give a week to relaxation. What are your favorite weekend ideas?