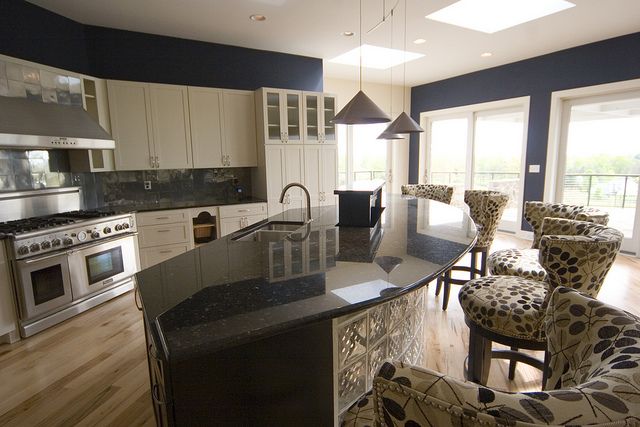 Gramophone Maryland
How much bread would you break out of your wallet to secure a luxury kitchen? The Huffington Post found the most-expensive kitchen costing an upward of $1.6 million dollars, suited with a copper fridge and walls to match. (1)
A few years ago, Forbes featured decadently –dressed kitchens, high-end nooks costing a crane handle's worth of cash. One breakfast area, designed by restaurant consultant Mark Stech-Novak, rests within a $58 million-dollar Water Mill, NY mansion. (2)
How far are you willing to stretch your dollars, dressing your kitchen in luxury? Consider the following popular implementations and styles.
Japanese
The rich in the west are borrowing eastern kitchen ideas, dressing areas in fresh and light colors and implementations. How are high-end designers pulling it off?
·      White-gloss tile, emulating shoji screens, featuring rectangular vertical shapes
·      Open shelving, increasing the breadth of the room
·      Paneled cabinet doors, with dark finishes to contrast the light
·      Formica countertops channel the look of Calcatta marble
·      Chrome-adorned handles and knobs
The Japanese-style luxury kitchen combines order, minimalist sentiments, and fine class. Stylists suggest adding or making windows larger to allow for more daylight.
Seashore
Real estate prices climb as property resides closer to rising and ebbing tides and other bodies of water. The well-to-do embrace sentiments of the seashore, creating beach-themed kitchens. To do the same, you'll need:
·      Light color palettes, including pastel shades with warm contrasts
·      White-paneled cabinets with nickel hardware and crown molding rises, creating a 'higher ceiling' effect
·      An island or center peninsula for cooking and preparing, distinguishing the style from a 'nook'
·      Backsplashes, infused with sand and porcelain glass
·      Seafoam-colored wall paint
A home by the sea costs a river's worth of pennies, but luxury kitchens everywhere are emulating the look and price of beachfront property.
Bistro
When homeowners desire classic and vintage looks, designers suggest bistro-style kitchens, accented in black highlights. Is the bistro look up your design alley? Designers emphasize:
·      Crystal knobs on doors and cabinets
·      Shining black and white ceramic tiles, laid at 45-degree angles, adding contrast and summonsing the classical period
·      Damask wallpaper
·      Glass-front cabinet doors
·      Freestanding island with wooden implementations made of maple with nutmeg rub-throughs
The French-inspired style is further capitulated with details such as a ventilation hood and potfiller faucet over a gas cook top.
Cottage
Cottages are quaint and small, but the thought and prices placed upon cottage-style kitchens are giving pleased homeowners high hopes about transitioning the look of their rooms. Creative color exploration is integral to the cottage look, but designers admit small touches are what really solidify the look, including:
·      Off-white cabinet colors
·      Cocoa glaze used throughout, perpetuating an aged look
·      Slate-looking laminate counters
·      Maple cabinets with cinnamon and onyx gazes
·      Beadboard paneling – on the ceiling
·      Deep-green backsplashes
Combining cozy with practical is the sought goal of hired designers, those who transform the kitchens of the rich and famous into quaint, classy, and comforting atmospheres. Add a bit of additional pizzazz, using blue and yellow tiles in the backsplash design.
Sam Dressler is an London interior design consultant. He enjoys blogging about his insights on the design industry. Visit Sothebys Mayfair to learn more luxury property charecteristics.
Photo credit:
Gramophone Maryland on flickr.com:http://www.flickr.com/photos/gramophonemaryland/5506256695/in/photostream/
References:
(1) http://www.huffingtonpost.com/2012/12/06/most-expensive-kitchen-design_n_2247051.html
(2) http://www.forbes.com/2011/02/04/most-decadent-kitchens-luxury-real-estate-forbeslife_slide_2.html
(3) http://kitchens.com/design-boards/