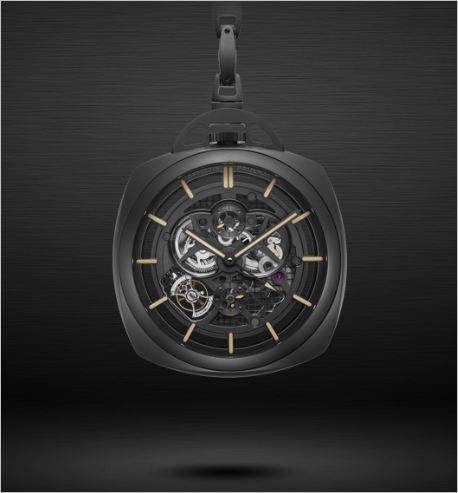 Panerai
For the past twenty years the who's who of luxury watches has gathered in Geneva, Switzerland for the Salon International de la Haunte Horlogerie (SIHH), and the latest convention was held January 21-25, 2013 and brought together representatives of 16 different luxury watch brands to display their latest designs and trends. Just as these luxury watches indicate a sophisticated and elite status, the SIHH convention itself is attended only by those expressly invited, with no public admittance. Some of the brands on display include Cartier, Ralph Lauren, Panerai, Montblanc, Vacheron-Constantin, and IWC.
While each watch artisan was anxious to show off their latest creation, the SIHH began by first honoring a charitable cause. In 2013, this cause was the Kids Amazing project of the Arteres Foundation, which helps reduce the anxiety levels of children and their families who undergo surgery.
The 2013 show displayed a combination of classic beauty and high functionality. The basic technology in watch making goes back over 300 years, and the challenge is always there to honor that tradition while integrating a level of functionality that our modern world requires. In large part, the features of an individual watch are dictated by a person's taste as well as their priorities. For some, the showing of multiple time zones on an individual face is a highly relevant feature. Many want a chronograph that can serve as a functional stopwatch for individual tasks, or a watch that displays the phases of the moon or astrological features. And some just want a lot of beauty and flash. On all accounts, the 2013 SIHH show did not disappoint.
In women's watches there a good deal of artistry abounded, and diamonds functioned as markers to transform these watches into high end jewelry equally valued for their fashion contribution as their ability to keep time. Vacheron Constantin brought the 19th Century English botanical gardens from an older era in time to our modern world. The Vacheron Constantin Lily, Queen, and China Limodoron styles display all the vibrant color of a classic painting. Flowers graced other watches too. The Montblanc Collection presented their Princesse Grace de Monoco 'Petales de Roses". Here the links were fashioned from 18k white gold rose petals and connected with invisible joints to create floral loops and over 500 diamonds.
The men's watches displayed a different kind of beauty. The chronograph was front and center in the 2013 show, and one of the biggest standouts was a design by Montblanc, Nicolas Rieussec Rising Hours named for the inventor of the chronograph. In the watch two rotating disks danced in opposite directions. One disk was on top of the other displaying not only the individual hours, but also discerning between day and night. The Arabic numerals change color displaying in black during the day, and turning blue at night. It also displays the day of the week, near the 9 o'clock mark, and the date appears near the 3 o'clock mark.
Multifunction ruled with A. Lange & Sohne's Grand Complication. The man who does everything, and who expects no less from his watch will fully appreciate the way this watch balances a plethora of functions all in an attractive package. It includes a grand and small stike chiming mechanism, a monpusher type split second chronograph, a minute counter with accuracy to 1/5th of a second, a four year cycle calendar, with date, day of the week, month, and moon phases all revealed on a white enamel dial with four arranged dials.
The minimalist will appreciate Piaget's Emperador Coussin Ultra-Thin Minute Repeater. At only 48 mm, this 18k pink gold watch boasts high functionality without a lot of bulk. It has the world's smallest self-winding minute repeater. All this also includes hand drawn detail and polished screws.
Those who thrive on adventure may enjoy Parmigiani's Tonda Woodstock. Wooden veneers with a Gibson guitar motif paired with an American flag displays a colorful musical style that is sure to get a conversation going.
Not everyone wants to wear their watch on their wrist, and of course there are few things more classic than a pocket watch. Panerai included a stand out pocket watch that displays a classic rugged beauty. Panerai's Pocket Watch Tourbillon GMT Ceramica (a.k.a. PAM 446) can take almost anything. Paneristi familiar with some of the ceramic Panerai watches from years past, will appreciate the new PAM 446's water resistantance and high tech ceramic that is five times stronger than stainless steel. The case and bezel are made from black ceramic, while the back is a see through sapphire crystal to display the beauty of this piece's craftsmanship.
Luxury watches clearly aren't for everyone, but the right watch makes a statement of style and prestige the same way as the right car, the right suit, or even the right home does. At the same time these watches help track every minute and keep the wearer ready for whatever is happening next.
Vacheron Constantin
Vacheron Constantin
Montblanc
Montblanc Nicolas Rieussec Rising Hours