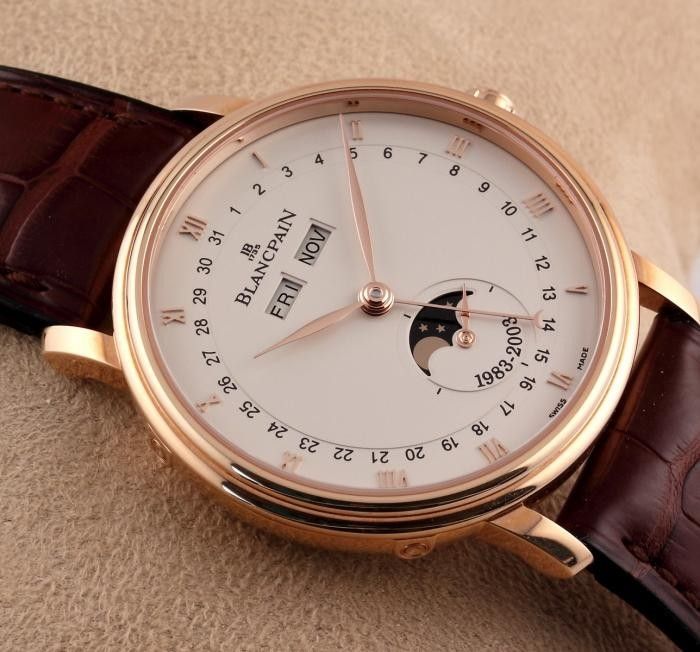 Jeffrey Kingston
When the wearing of jewelry was banned for religious reasons in the 16th century, Swiss jewelers turned to watchmaking, and from that a national industry was born.  The tiny country of Switzerland is famous for many things, among them secret bank accounts and chocolate, but it takes special pride in its manufacture of the world's most intricate and exclusive watches.  For the Swiss, the watch industry not just a manufacturing concern, it is part of a culture.  And the grandfather of Swiss watchmaking culture is Blancpain, founded in 1735 and the world's oldest watchmaking brand.

Blancpain began as a family workshop and quickly became known for its quality and detailed workmanship.  As a result, the watches came to be coveted by the wealthy as a status symbol, and the brand continued to thrive and grow, adding new models and features through the years until the 1930's, when the business left the original family after 200 years of Blancpain family control.  In the decades that followed, the wristwatch grew in popularity, replacing the pocket watch, and production grew to over 200,000 by the early 1970's. Then quartz technology arrived in 1970 and the watch industry changed forever.  The quartz era led to automation and mass production of inexpensive watches without mechanisms, and traditional watch companies began closing because they couldn't compete on price. 

Blancpain maintains its place atop the list of Swiss watchmakers as one of the few in the industry that has maintained the status of "manufacture", a designation assigned when a company makes all of the watch components.  It is a costly method but assures ultimate control over the final product.   In the watchmaker's world, features with moving parts such as perpetual calendars, perpetual second hands and whirling balance wheels are known as complications.  And having multiple complications in a watch is a symbol of the watchmaker's handiwork, a practice Blancpain proudly endorses.

Today, Blancpain only makes 10,000 watches per year, each of them hand made by a single watchmaker from beginning to end.  In comparison, Rolex manufactures over 14,000 per week.  Blancpain watches are known for featuring multiple complications and they often display the complications on the watch face or back rather than conceal them.  Some of the watches have over 700 hand tooled parts in them, some as thin as a human hair, and each has over 100 points of lubrication, touched with barely a molecule of oil before it leaves the factory.  The attention to detail is unmatched, and it is said that the watchmaker always claims first ownership of each watch, as he leaves a part of himself in each one. 

The most luxurious watch in the line is the Blancpain Grande Complication 1735, with only one made each year in a limited edition of 30.  It leaves aficionados in awe because of its mechanics, with a minute repeater, a tourbillon, a moon phase minder and a perpetual calendar, all wrapped in a platinum case with a crocodile strap.  The lucky buyer each year will have the opportunity to spend about $800,000 to own one, which is often hand delivered by the watchmaker himself.  That's a lot of watch.  Today Blancpain continues to innovate with new ideas and components.  During the last six years alone, they have launched 18 new movements, each one hand engraved by skilled artisans as they continue to honor their past while looking to the future as a continued world leader in luxury watchmaking. 
Malik Pifpaf
Detailed engraving
Rama, Wikimedia Commons
Blancpain Villeret
Paul Boutros
Blancpain Grande Complications 1735