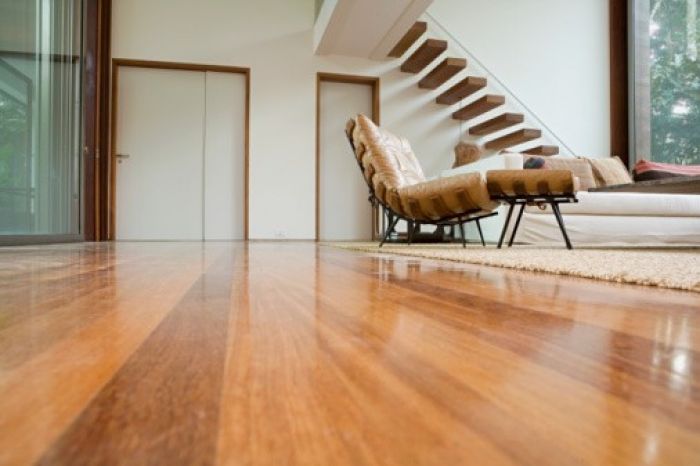 www.gettyimages.co.uk
Wood floors make one of the hardest-working parts of any home. They withstand your continuous schlepping and sometimes you go beyond this and do the harsh treatment by walking on them with your stiletto heels and pulling your furniture across them.
If home designers' opinion is to be followed, you will get to know that keeping wood floor surfaces clean is not that challenging as one might think. All you need to do is to keep the cleaning and maintaining techniques as simple as possible. If you keep up on the maintenance, there will be no requirement of intensive and professional service to keep your floors beautiful. Let us find out ways to keep your wood floor clean and stain free.
Finished wood floors
Polyacrylic, urethane and polyurethane are used to surface seal most new wood floors. Finished wood floors are water-damage and stain resistant. You will have it easy cleaning and caring this floor if you install it in your home.
Caring for the finished wood floors- removing tough stains
The finish of the floor determines how to treat stains. As per the general guide, if your wood floor is of wax finish, use steel wool or cotton to rub off the stain. If the stain is stubborn, you can use fine sandpaper or a floor cleaner. After the stain is removed, you need to reapply the wax and polish. Wash the floor cleanser off the floor before you wash the floor. 
If your wood floor has a surface finish, you need to maintain color consistency by treating the whole affected area. Use the same finish that remains on the surface finish to reapply it on the affected area. Make sure not to overlap the stain on the adjacent boards.
Tips
Do not use citrus oil and soap oil because they leave a dull residue.
Untreated hardwood floors
Untreated hardwood floors have a worn feature that increases the appeal of any room, especially the dining room. While cleaning this floor, you should not aim at removing any of the marks. This is because that will take the appeal away.
Caring for the untreated hardwood floors- removing dust and tough stains
·        Use a soft-bristled non-marking brush to remove dust from the floor surface.
·        Wet a microfiber pad with little bit of water and cleanser. Make sure the pad is not wet too much.
·        Wrink the pad properly. This will help the floor dry up quickly.
When it comes to removing stains from your hardwood floors, you need to take the professional help if there are major chips and stains on the floor. However, if you maintain your floor weekly, the surface scratches and worn floor can be renewed using hardwood refresher.
Tip:
Do not use all-purpose cleansers and rotating vacuum brushes. This vacuum brush cause scratches to the wood surface.
Wood floors in high traffic areas
You must be treating scratches of your hardwood floors in high traffic areas. However, only treating scratches are not everything to maintain the beauty of the hardwood floors. Prevention is the key to keeping the beauty of your floors intact in high traffic areas. Do not stride your hardwood floors with high heels and boots. Boots with uneven heel and a nail sticking out can scratch your surface.
Tip
Trim your pet nails to prevent deep scratches.
Engineered hard wood
This type of wood floor is the combination of hardwood and soft wood with the top most layers which is the most durable. It is heat and moisture resistant. This wood makes a perfect flooring option for bathroom and kitchen.
Caring for the engineered hard wood- removing stains
This flooring option is already resistant to stains. A cleanser is fine to get rid stains.
Tip
Stay away from oils.                                
Wood floors in the kitchen
Wood floors are a fine option for kitchens and bathroom. However, in both cases, the wood is exposed the water. Therefore, you need to clean up the spills right after you sea.
Caring for the kitchen wood floors- removing spills
If your dishwasher is leaky, you need to absorb as much as spill you can. Well, you get to clean the spills just right away.
During the renovation work, you can use laminated paper board to protect your surface from spills, scratches and stain. Never put too much large amount of water. Stick to these guides and get your home a unique look.
Albert Smith is passionate about home renovation, architectural design and gardening. He is a freelance architect and a property management consultant in West Palm Beach, Florida. You can find Albert's articles on many property blogs and article directories. Currently he is writing on adhesive tapes for home renovation projects. Albert suggests his reader's follow Paisley Protectives for additional information on laminated paper board to for flooring protection.