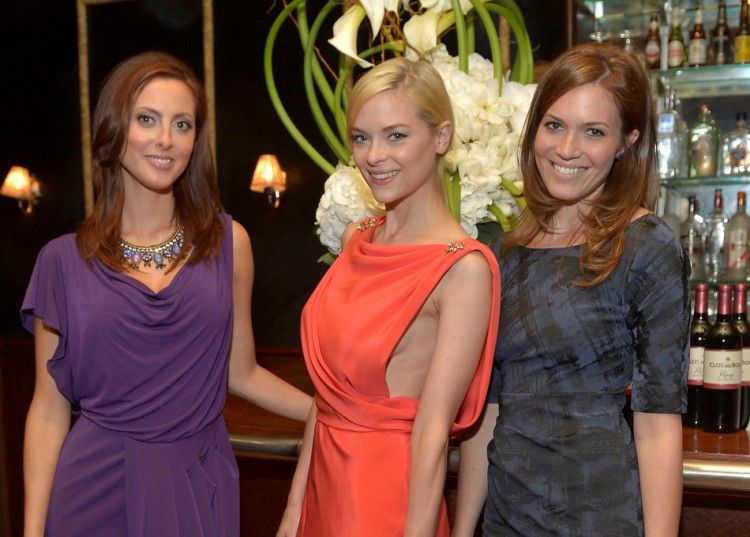 Charley Galley, Getty Images
The Bar Marmont at the Chateau Marmont in West Hollywood was the glamorous setting for a Moulin Rouge-themed party on Wednesday evening. Hosted by Clos du Bois, the French-influenced Sonoma County winery famed for their Chardonnay, the event celebrated the release of Clos du Bois' new red blend wine, Rouge, which will be available for sale in September. The stylish attendees included Mandy Moore, Jaime King, Eva Amurri, and Jessica Lowndes, along with Clos du Bois Winemaker Gary Sitton.
Eva Amurri was dazzling in a purple Vince Camuto dress, while Mandy Moore looked chic in a black and blue sheath from Lela Rose's Fall 2012 collection. Most partygoers agreed, however, that the evening's style standout was Jaime King, who wowed the room in a daring, on-trend orange silk Jason Wu dress.
In keeping with the Parisian theme, a trio of can-can girls entertained guests while KCRW DJ Mathieu Schreyer (aka Mr. French) spun French house music. A crepe stand was on hand to prepare guests crepes both savory and sweet, and servers passed tasty Gallic nibbles, including bites of brie and French fries with aioli. Clos du Bois Rouge, a lush, jammy blend of six types of red grapes, flowed freely throughout the event, and guests had their photos taken as they situated their smiling faces through cutouts in a carnival-style board painted with images of Marie Antoinette and Napoleon.
Mandy Moore discussed collaborating with husband Ryan Adams on her upcoming album, Eva Amurri rued the lack of privacy afforded Prince Harry in Las Vegas, and Jessica Lowndes excitedly chatted about filming a new episode of 90210 with a special guest star, Olympian Ryan Lochte. Guests partook of Nutella and fruit crepes and Clos du Bois Rouge punch, and the Clos du Bois Rouge launch party came to a delicious close.
Charley Galley, Getty Images
Can-Can Girls at Bar Marmont
Charley Galley, Getty Images
Jaime King in Jason Wu at Bar Marmonnt
Charley Galley, Getty Images
Eva Amurri with Can-can Girls at Bar Marmont
Charley Galley, Getty Images
Clos du Bois Rouge