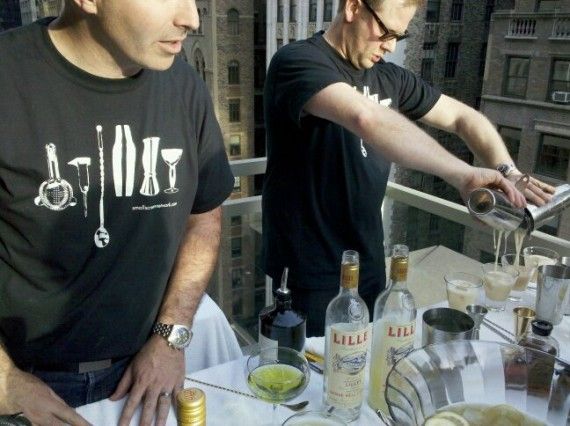 Steve Mirsky
Well, I thought I would make it to the opening gala at the New York Public Library but the following circumstances kept me from climbing the grand marble steps into this iconic temple of learning now outfitted with luxe tasting stations, pulsing light displays and house music:
It was 12 midnight when I arrived and I didn't check into my hotel yet…located down in Lower Manhattan next to the World Trade Center. Since I was in town only for Saturday's festivities across the street at the Andaz, I thought it would be wise to catch some shut eye and make the most of tomorrow.
To coin a phrase, I was dressed casual chic…meaning I still had my backpack along with my sport jacket paired with t-shirt and jeans. This opening bash is definitely an occasion to break out your classiest most creative outfit…for guys it's probably your wedding duds stashed to the back of the closet with thoughtful twists like perhaps a top hat or off beat tie. To do any less would simply leave you feeling kind of well…naked.
So it was with my first introduction to the Manhattan Cocktail Classic that I learned a valuable lesson about attending this 4-day long event: Don't even try to cram it into a compressed schedule if you can absolutely help it. You need a place to camp out for a few days, unfurl, and pace yourself intelligently with the libations. Speaking of which…the most important ingredient…liquor! This is after all a celebration with plenty of opportunities to explore various specialty liquors, how to best mix, and most importantly imbibe them.
Flash to Saturday morning, 11 a.m., Andaz Hotel second floor, site of Manhattan Cocktail Classic's Industry Invitational. Salons along with a couple outdoor terraces served as home base for the day. Additional tastings and parties across NYC were scheduled in addition to this main event. Luckily there was an app available to keep track of when and where these offsite activities were taking place. With program in hand, I got to meet a lot of the faces behind brands like James Hayman from London's Hayman Distillers producing a wide array of tasty batch gins; Marc De Kupyer, yes a member of that De Kupyer enterprise who among other liqueurs, has resurrected Mandarine Napolean from the fabled ruler's personal recipe; and Eric Seed from Haus Alpenz, importers of fine French Vermouths and aromatized wines among other treasures. I also sat in on some seminars ranging from an uber product PR pitch by Patron Tequila setting the record straight about their authentic production methods to Left of Center, bar consultant Tobin Ellis' riotous accounts from the art of making a buck selling cocktails in some of the highest end Vegas watering holes. And then there was a studio kitchen chef periodically demonstrating how to incorporate Angostura Bitters into various recipes like burgers and mac & cheese bites…another sampling opportunity complete with take-home recipe cards!
Each seminar had the classic setup of conference room table and chairs but instead of esoteric handouts and boring Power Points, resulting samples or full cocktails embodying each presentation were abundantly available for sipping. Wish my video could transport flavor experiences to you but for that, you'll have to make your own plans to visit next year!
Hanna Lee Communications
Opening Gala Celebrating Campari's Negroni Cocktail at Manhattan Cocktail Classic
Steve Mirsky
Craft of Blended Drinks by Kim Haasarud