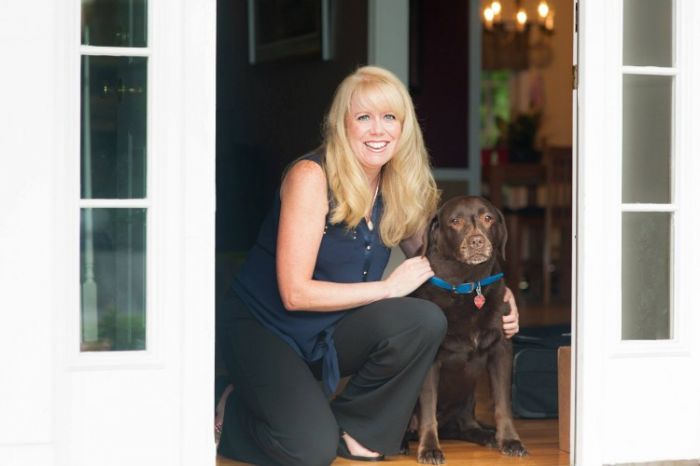 Maureen Hancock
Maureen Hancock is well known throughout Massachusetts for her experience communicating with dead people. The spirit medium hosts shows throughout the area where loved ones gather in hopes of getting in touch with someone who has passed. If you haven't yet seen one of her shows, you are in for an entertaining evening.
We attended one of her shows recently at Florian Hall in Dorchester and were surprised to hear the personal stories she was able to communicate with friends and relatives. Hancock combines humor with individual experiences that she shares with audience members. For example, she spoke to a Marine whose son was in the Navy on leave when he was killed in a car accident. She said the father was thinking of getting a tattoo on his right shoulder in memory of his son, which he was. Another person lost a friend in a motorcycle accident and yet another was lost to suicide.
What could have been a very depressing evening was surprisingly uplifted with Maureen's unique sense of humor and compassionate ability to communicate with loved ones. At the end of the evening, we felt like we had personally gotten to know some families and their loved ones who had passed.
Hancock first learned she had a unique ability after a car accident when she began hearing specific messages from passed loved ones while performing healing work. These positive healing messages were later validated and she discovered emotional healing started to take place. To see the smile return to the grieving loved one left behind was enough to make Maureen realize this gift needed to be shared and offered to those in need of messages of peace, and to help communicate that the continuity of life is real and our loved ones are not really "dead." She reiterated this throughout her show saying that loved ones are not dead, just different.
Hancock is also the star of the Style Network documentary, Psychic in Suburbia. Style Network along with ABC Media Productions, and the producers of The Ghost Whisperer (Sander/Moses Productions and Slam Internet Co.) worked together to present this inspirational, "out of this world" special presentation.
For more information, visit www.maureenhancock.com.
Maureen Hancock
Maureen Hancock