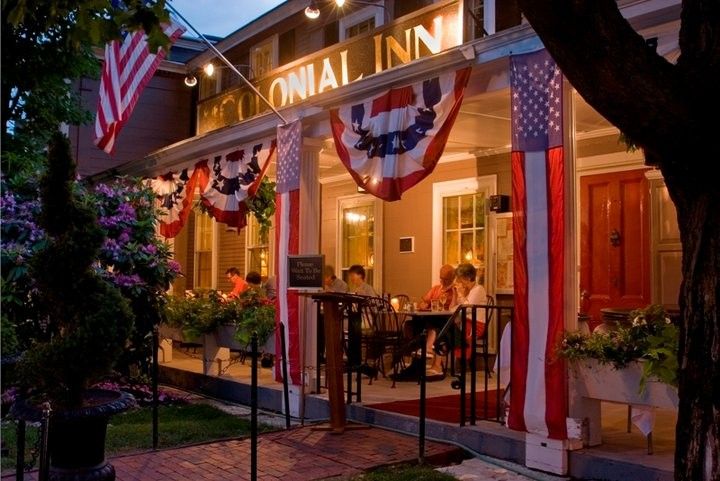 Photo Courtesy of Concord's Colonial Inn
Massachusetts is certainly one of the most historic states in the country. From the Pilgrims in Plymouth to the Battle of Lexington and Concord, there are many notable towns that have played a significant role in American history.
We recently ventured north of Boston to Concordís Colonial Inn, a beautiful landmark in Monument Square, for dinner at
Merchantís Row
. The Inn is independently run and has two restaurants on-site: Liberty, a gastropub and Merchantís Row, the classic fine dining restaurant that sources most of their ingredients from local farms and artisans.
Our friendly server, Mary Lou, was extremely knowledgeable of the menu and informed us of the eveningís specials which included a lamb and vegetable soup as well as fresh pappardelle pasta. We got started with a sampling of the deliciously fresh salmon tartare served with spicy ginger Sriracha mayo, house-pickled red onions and a side of crispy managa chips. The generous portion of thick and creamy clam chowder arrived with a tasty black pepper oyster cracker.
For a main course, the massive 22-ounce Painted Hills Ranch cowboy ribeye was cooked to medium-rare perfection. Since the steaks here are served ? la carte, be sure to complement your dinner with a side of roasted mushrooms and creamy mashed potatoes. The classic veal Oscar was another standout served with a crab cake, grilled asparagus and topped with a creamy Hollandaise sauce. Pair it all up with a bottle of Edna Valley Cabernet for a memorable dining experience.
Unfortunately, we didnít save room for dessert but opted to take one with us that we later enjoyed at home. The Maine blueberry bread pudding was fantastically rich and topped with a decadent white chocolate sauce, our serverís suggested dessert.
Photo Courtesy of Concord's Colonial Inn
Photo Credit: Kellie Speed