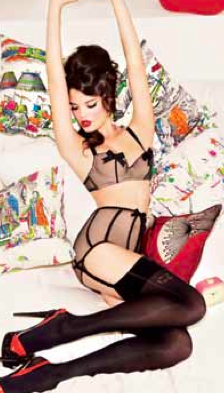 Mode City
MODE CITY: Paris France
Hot Looks in Lingerie and Swimwear Trends for 2013:
By Pikke Allen
Even though the weather was a bit cold in early July in Paris, the lingerie and swimwear trends for 2013 sizzled at MODE CITY.
This is the largest European showcase for this fashion category. The opening "White and Gold" party at the luxurious Rothschild mansion in Paris's 8th held the night before, set the tone of luxury for this show.
Trends in French lingerie, are beautiful workmanship, exquisite materials and styles all made in France, with foundation structures that are as romantic as they are sexy. "Save the Queen" an Italian swimwear brand from Florence was Saluted as the show's officlal brand "Designer" of the year for the show and co-hosted the party where champagne flowed all night long.
CHANTAL, and other French houses most Americans are familar with carried in luxury department stores like Neiman Marcus were there in full force. The arrival of the larger busted woman who for many years was the "forgotten" demographic in lingerie was showcased in a number of collections. Other stand out lingerie brands were "Lucile" a company with a history of Haute Couture and Lingerie at the opening of the 20th century. Her great granddaughter has revived the original "esprit" of the family business with gorgeous silks, satins and ribbons all made in England. The "sexy" and the "proper" are mixed together in charming combinations in this collection. Many Lingerie Brands showed a sense of vintage history, with higher cut bottoms that reached above the waist with a 1950s Marilyn Monroe "pin up" styling. For many years the "Brigitte Bardot" ideal of a slim woman with a smaller bust line was the French standard. But, it's clear that the more voluptuous woman has arrived and her curvaceous form has swept the lingerie markets creating new trends and stylings.
Bathing suits also took on a varied approach with the Brazilian Bikini always a favorite along with suits designed by English designer at "Hoola" for the larger busted woman and the French bikini, still a mainstay of the industry in both knitted and printed styles. There is no substitute for a European bathing suit, born on the coasts of the Riviera in both Italy and France. Brazilian design was featured at LIMONADA and KIMINIS made entirely in Brazil featuring the season's hot brazillian colors and patterns. With two new lines, one the classic and one for the younger customer, she has a winning formula for success in this category. New trends in swimwear went from neons, to metallics, to ethnic prints or even suits that had jewelry attachments or accessories to customize their appeal. Another major trend was the bathing suit that also worked like shapewear, slimming, tucking, hiding and enhancing the figure. This was a welcomed addition to the show that was dominated by small string bikinis that can only be worn by the very youngest demographic. There was alot of options for women over the age of 35 and going forward this will be an age group that will soon dominate the markets as our population ages.
Along with lingerie and bathing suits the third major category was suit covers and beach dresses. This category is an important part of any swimsuit line as it adds another point of view to a collection. A stunning array of brands featured the delicious "Indian" inspired caftans, or halter dresses that tied over matching suits. Bright colors with ethnic details like beaded trims and borders were a highlight of many collections with jewels and sparkles that were gorgeous. These pieces could be worn for cocktails after a swim in that magic hour before you slip into your disco dress for a night of dancing.
The men were also a major category and for the first time, the "Metro Man" has many choices in the swimwear and shape category. The hot new suit was the shorter "80s style" board short that could be worn with comfort in a variety of bright colors. The French espadrille was also a highlight, many older companies reviving their traditional brands and presenting the classics in new colors and styles. This shoe is famous the world over and it was great to see its timely revival.
New fabrics and technology are a key feature of the shapewear industry. A number of top fabric companies from Italy, Germany, Switzerland and France presented textiles that not only breath and work like fine couture fabrics but have unique properties. These new fibers work to improve skin tone, temperature, and even infuse collagen into the wearers own skin. The technology that works hand in hand with the shapewear industry is what makes lingerie and swimwear a category that continues to evolve into the future.
The highlight of the show, were the "fashion" shows that were a sexy mix of burlesque and runway, with girls dressed in hot lingerie ensembles dancing with fans to great music mixes. This added a sense of fun and reinforced the message that great lingerie and shapewear is all about the wearer's enjoyment and fun. This, translates into a worldwide business that has topped the bilion dollar mark and shows no signs of stopping.
For more information about this show, MODE CITY you can go to the website at www.modecity.com.
Save the Queen
Italian Swimwear Trends
Lucile of London
British Sexy at Lucille
Zimerlli of Switzerland
Board Shorts for Men