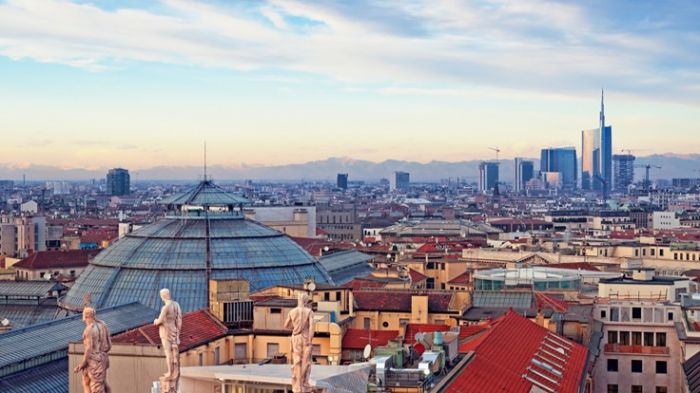 World Property Channel
Real estate, both commercial and private, has been booming around Italy, and Milan seems to be at the heart of it all. If you're planning on moving to the gorgeous Italian city or are considering expanding your business there, you should check out these articles to learn more about what's happening in their market.
Investment in Italy's office, retail and industrial markets increased 54 percent during the first half of 2013, compared to last year, according to data from Cushman & Wakefield.
Transactions during the first six months totaled €760 million ($1 billion), compared to €495 million last year. Investments in offices led the markets, with 13 single office transactions totaling €430 million, 57 percent of the overall deals during the first half, the firm reports.
The most active Italian city for office investors was Milan, which had six transactions totaling €235 million, excluding the Qatar-Hines Porta Nuova joint venture. (In May Qatar Holding announced plans to invest $2.65 billion into the Milan mixed use development.) Coming in second for office investment, Rome had four transactions totaling €130 million. Read More
By day a piazza, by night an adventurous hangout; this is the transformation that as urban planners we attempt to provide within a city. But can this type of functionality emerge in places we least expect?
Once the structure of a second century temple or public bath, the Colonne of San Lorenzo now represents a well-known place of Milanese attraction for young people.
The Colonne of San Lorenzo are the most famous Roman ruins in Milan, situated in front of the Basilica di San Lorenzo, a place where the urban fabric once suffered severe changes. Until 1935, the neighborhood was dense and full of old houses which made it inaccessible to the public. After World War II, the area became less congested and more popular.
A particular aspect of the Colonne and the piazza of San Lorenzo is the contrast between its day and night functionality. Tourists often visit it, as it is a historic part of the city close to Porta Ticinese, the south-west gate of Milan from medieval times. Read More
Its no secret that Foreign Investors are flocking to Italy to purchase one of the countries greatest resources – Real Estate! Qatar Holdings are one such company that have already bought the couture house Valentino and a luxury resort in Sardinia. Now with the Hines Group they are aiming for a stake in a high-end real estate development in Milan, the Porta Nuova complex (2 billion Euro value), which is part of a massive development plan in Milan supporting the preparation for 2015 World Expo. Like the Qatari, Chinese investors are also increasingly trying to buy Italian assets. Read More