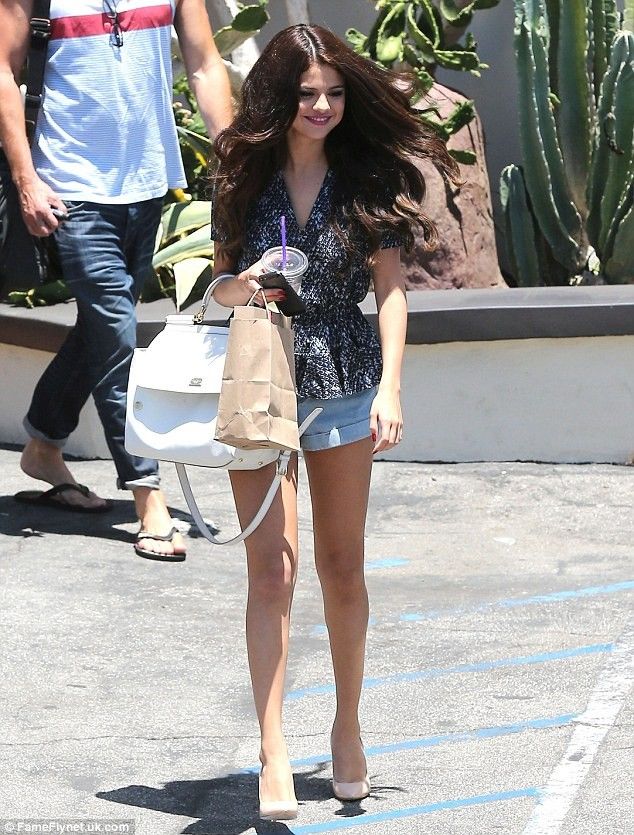 Image from Fameflynet.uk.com
Selena Gomez is unquestionably a pretty girl, and her blouse selection shows that she doesn't have a dead fashion sense, but is a skirt too much to ask? I know, the days of female liberation are long sinceestablished, but those short-shorts look terrible with that otherwise lovely blouse, and with the summer season upon us, that really only leaves a skirt for comfort. So can we ditch the unnecessary shorts and just go classic? Please?
Selena Gomez has finally shaken Justin Bieber out of her hair.
The Come & Get It singer was in a chipper mood after putting in some practice time at a dance studio in Los Angeles on Friday.
Selena was seen leaving the location wearing a sly smile with her face half-hidden by her voluminous tresses that trailed almost to her waist.

The 20-year-old starlet looked cute and confident in tiny light blue shorts that allowed more than a glimpse of those lean and toned legs.
Selena paired her shorts with a loose-fitting dark blue print blouse and pastel pointy heels that made her limbs look even longer. (Read More)