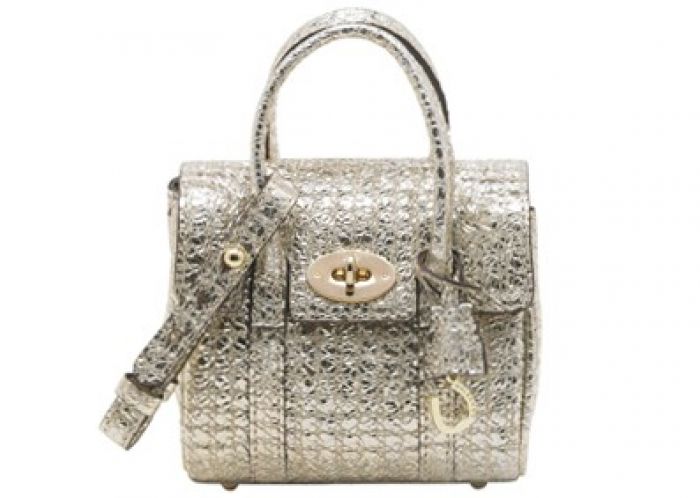 Mulberry
The Mulberry Factory Shop, Somerset, UK
& Mulberry's Smallest Bag, the Shrunken Bayswater
Mulberry's smallest bag? Measuring just 11 x 11cm, whether this warrants the title is debatable, it's really more of a bag charm or coin purse in bag shape. What isn't up for debate is that this diminutive version of the best-selling Bayswater in Diamond Sparkle is not only super cute, but also brilliant value at £76 (reduced from £153) at the Mulberry Factory Shop ~ a spacious converted Victorian schoolhouse in deepest Somerset. The design's also available in 'Reverse Glitter Leopard', the leather treated to resemble leopard print.
Mailorder from the Factory Shop is available and Mulberry have a good returns policy, but if you're fussy about condition you really need to visit in person to give items the once over. Seconds are usually marked, but there may still be flaws ~ sometimes significant ones ~ on first-quality pieces, which could be a deal-breaker depending how fussy you are and of course, the level of the reduction. I picked up a full-size Bayswater in Diamond Sparkle reduced by around £200 but quickly put it down again once I spotted some serious damage along one of the seams. Quite how that wouldn't be classed as a second I don't know.
In contrast, my Shrunken Bayswater is perfect, never a term I use lightly. For me, perfect is what it has to be if something's for the long haul, unless it really is a give-away price. My pet hate is sales assistants reassuring me badly scratched metal fittings on designer goods (usually due to poor packaging and protection, or worse, inferior quality) will get sratched anyway once I've started to use it. That may or may not be so, but I'd like to enjoy that privilege myself rather than it being 'pre-scratched' for me, thank you.
Not that I'm pointing any fingers at Mulberry's staff. They were at pains to stress the importance of inspecting items and happy to find additional stock for me when the display didn't pass muster, despite it being the sales and the phone ringing constantly.
Sadly this time there were no temptations among the clothes. Anything really desirable was only available in a UK size 6 or 8, with everything else either being straightfowardly dull or strangely ugly, in some cases just plain weird ~ freakishly long blue leather jumpsuit anyone? A Doctor Who extra may be? Yours for £125 from £2,500.
The men's range seems to have disappeared altogether, much to my husband's chagrin. The ostensible reason for our trip from Bath in disgusting weather was to find him a replacement belt, his now vintage Mulberry having seen better days. Ah well, thanks to the Shrunken Bayswater at least we didn't come away empty-handed.
Mulberry Factory Shop, The Old School House, Kilver Street, Shepton Mallet, Somerset BA4 5NF, Tel: +44 1749 340 583, www.mulberry.com
Follow LuxeGuru on Twitter: @LuxeGuru
Mulberry
Mulberry Shrunken Bayswater in Reverse Glitter Leopard