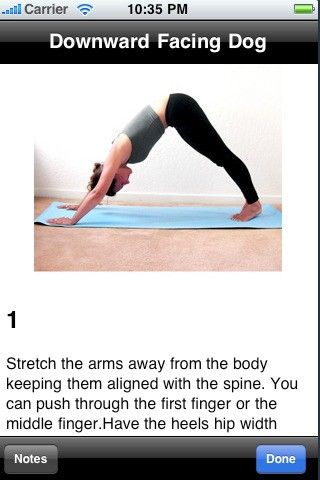 appolicious.com
Across the United States and the world, yoga is a growing form of exercise and spiritual awareness for people of all ages, races and income levels. The inner strength, relaxation and mental clarity that can result from a regular yoga practice makes the ancient form of exercise attractive to many people.
Now, doing downward dog, shoulder stand or tree doesnít have to mean shelling out big money for private classes or a yoga studio membership.
There are dozens of free and paid apps made for smartphones, tablets and other mobile device that allow users to sign in to a virtual yoga practice from just about anywhere. There are apps with build-your-own yoga flows and some that come with proven yoga sequences built in. Some apps even feature a soothing voice from a virtual yoga instructor and allow you to listen to soothing music to make the practice easier.
Here are a few of the most popular yoga apps available now for the iPhone and iPad.
Hatha Yoga: Your Portable Yoga Studio
This is considered by many to be the Cadillac of yoga apps. It allows for customized and pre-set yoga classes and even lets users modify an existing class to suit their personal preferences. Developed by Prahlada Reddy, a computer expert and renowned yogi, this app offers a stunning look and very high-end experience. It can be downloaded for $9.99 in an online app store.
Authentic Yoga with Deepak Chopra
If you donít want to spend about $10 for the Cadillac of yoga apps, you could settle for this app, which ranks a close second place. Created by and featuring renowned author and speaker Deepak Chopra, the app contains video explanations of individual poses, customizable flows and detailed explanations of yoga poses. Thereís also an online community where users can ask questions and interact with fellow yogis. It costs $1.99 in an online app store.
Yoga Trainer Pro
This is another high-end yoga app best for experience yogis. It is comprehensive and outfitted with lots of video guides to walk uses through their pre-set and customizable flows. It has drawn some low marks from reviewers, however, for the computerized sounding voice of the virtual instructor. It can be downloaded for $9.99 in an online app store.
Yoga Instructor
This app is packed with lots of helpful photos of poses and a calming female virtual teacherís voice. It comes with a flow that is customizable, so users can get a personalized yoga practice. For the price of $1.99, itís one of the best bargains on the yoga app market.
Yoga RELAX
This app and the companion Yoga STRETCH offer two different styles of customizable yoga practices. As the names imply, the RELAX version is more calming while the STRETCH app is focused more on increasing flexibility and core strength. Depending on the userís desired results, these free apps are a great choice for some yoga on the go.
So, with so many apps now available for smartphones and tablets, thereís no excuse not to start a healthy yoga practice.