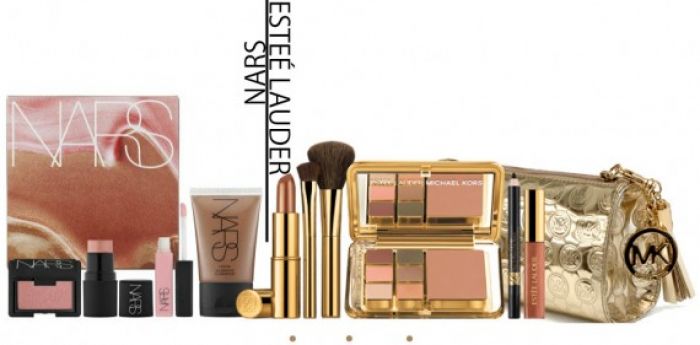 Estee Lauder, Sephora

NARS   ESTÉE LAUDER Quality /
Included in this kit is the classic shades of NARS such as peachy pink shimmer, brown shimmer, and gold glitter, etc. I say the best item in this set is the Illuminator Laguna. It's a great bronzer that you can keep your skin healthy glowing for a long time. The others items I would say are just supplementary make-up products.
This kit includes items that are timeless pieces: cheek brush, eye brush, eye brow pencil, lip gloss, rouge lip stick, eyeshadow and face compact powder, and a glamorously-golden pouch with Michael Kors all over. This is fab quality times two. 
Exclusivity /
 Of course, it's a limited edition set as with many twenty others on Sephora's website. However, it is sold exclusively online only, so quantities are limited. But they didn't really throw in any new items so it's basically a bundle of their non-seasonal goods all wrapped up in one kit. The exclusive appeal isn't really working for me.
  Again, it's a limited edition set, and is only sold online. But  EL gathered fashion and beauty and threw in seasonal colors and yea, it works! We love the spring eyeshadow shades together with blush compact. Oh, and see MK's siggy on top? That is just divine.
Price Worthiness /
For $49 this kit is sensibly priced, but I'm one dollar short of qualifying for free shipping. Hm... pass.
You get a full makeup kit for under $40. Their website offers free shipping and free returns on any merchandise.  The only downside is there's limited quantity.
Willingness to Recommend /
While I have to admit, NARS has amazing bronzers, but I'm not convinced Sephora is doing it any good by throwing it in a kit such as this one. I would definitely recommend buying these items separately, because their blush and shimmer compacts tones don't change too frequently.
This is a gorgeous gift for any friend or family. The color palettes that are available are very playful and can be used for any skin type. The penny and fresco tone will look especially dazzling on tanned skin tones. Get it here!