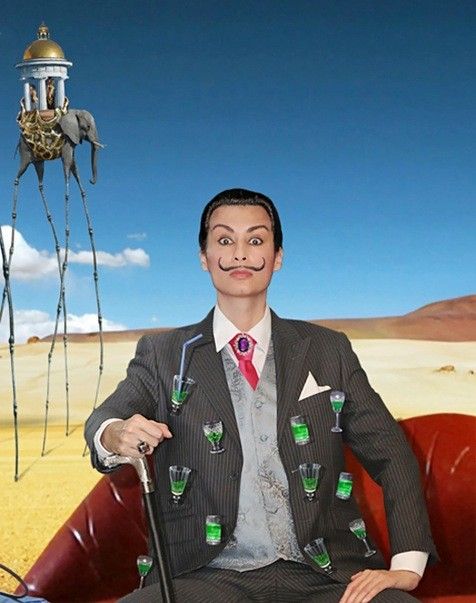 Natalia Babi as Salvador Dali.
Extravagant artist and model of Ukrainian origin Natalia Babi, who lives and works in Miami, surprises the audience with her art impersonations. However, this time the artist outmatched all the expectations.
The collection of celebrated paintings "Wondrous Women of Fantasy and Reality" created by Natalia Babi, where she plays the roles of worldwide famous women throughout history, should be mentioned. Natalia calls this project "The Theater of One Artist". Combining the mastery of art and acting skills together, she poses in a certain diva image in front of the camera; then she transfers a photo on a large-scale canvas, followed with oil paints and multimedia, creating a harmonious one-of-a-kind universe, fusing photography and painting.
What a surprise when the artist in her new work appeared in a man's image of the great and eccentric surrealist Salvador Dali ! Natalia has planned a new series of works dedicated to outstanding men, yet it was not easy to take a first step. To get accustomed to a male role, you have to erase the habitual femininity, but at the same time not to cross the fine line so that a viewer can guess who is behind the image, says the artist.
Why, after all, has Salvador Dali become the first character in this series and what does her painting conceal? Natalia Babi answered: "Dali is my favorite artist, whose artworks always have taken me away in the dreams of transcendent expanse. Dali was an artist before his time. He was a recognized and most enigmatic genius during his lifetime. His many-sided brilliant talent has influenced the development of world art and culture.
The artwork is called – 'I am Surrealism', which is inherently a quote of Dali himself. On the painting, as if in an immeasurable valley, there is an artist, dressed in his striking aphrodisiac jacket, surrounded with his iconic symbols. As befits a world of the true surrealist, dreams intertwine with reality, becoming alive with soaring tigers, arachnid elephants and burning giraffes. His own designer home accessories are around: lobster telephone, sofa-lips… The clocks melting like cheese under the sun. In the shade of a levitating sea an artist's favorite ocelot is peacefully resting, and his pet anteater is hunting ants… Without a doubt there is the presence of the immortal beloved Gala… but only he can see her.
My artistic intent - says Babi - is to bring to life Dali's multifaceted world, rally together mysticism and reality, recreate the spatial options and measurements, in which his soul existed and maybe continues to exist. The master once said, 'I have always seen what others haven't; and what others have seen, I haven't' ''.
The artist presented the painting on Salvador Dali's 110th birthday, saying that it was her modest gift to the great master of surrealism. Natalia Babi has high hopes for this work and will consider the apotheosis of her creative career the day when this painting is displayed at MoMA in New York.
Original painting by Natalia B
Original painting by Natalia Babi -
Natalia Babi Photo Session.
Natalia Babi Photo Session.
Salvador Dali. Aphrodisiac Jac
Salvador Dali. Aphrodisiac Jacket