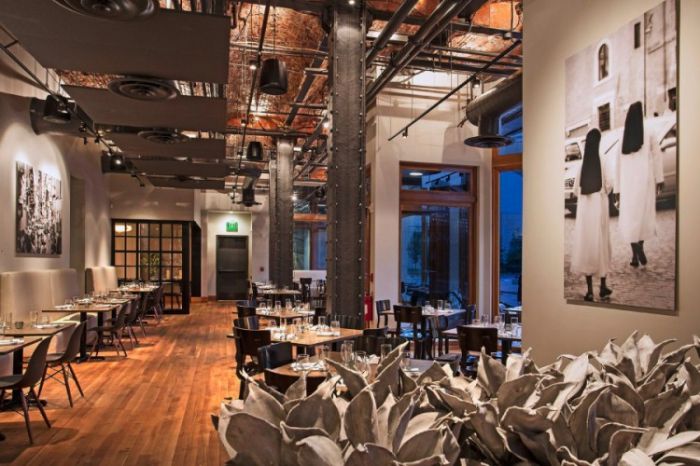 NEBO
You know them from the North End but Boston's famous sisters, Carla and Christine Pallotta, have now made their way over to Atlantic Wharf taking with them their famed restaurant, NEBO. The brand new massive space with soaring brick ceilings, exposed beams, across from the Rose Kennedy Greenway is more than double its original size, has 180 seats and a beautiful 65-seat patio for al fresco dining during the warmer months.
While NEBO stood as an acronym for North End Boston, with its newfound location comes a new translation now meaning North End Brought Over. We recently visited the restaurant one early Friday evening for dinner. The restaurant already had a good size crowd but by the time we left, every table was filled so be sure to get here early to avoid a long wait. If you do have to wait, you won't mind lingering at the long bar for a creative cocktail with fun names like In Flamme or the Dirty Double Cross.
Our friendly server Julie was extremely knowledgeable about the menu and told us the special of the evening was Arctic char. Each item on the menu here is listed in Italian with the English translation to the right. We started off with a sampling of the delicious bruschetta zampanella, two crisp slices of bread topped with tangy marinated tomatoes, fresh basil and shaved parmesan. We also tried the polpettine, five heavenly meatballs served in a simple tomato marinara sauce. (Sometimes the best flavors come from just the basic ingredients). Our server suggested we order a side of bruschetta aglio e olio, grilled house made dense bread (we need the recipe, please) that was so addicting and most ideal for dipping in the meatball marinara we almost forgot about ordering entrees. We also tried the funghi selvaggi, a deliciously rich combination of creamy mascarpone polenta on the bottom layered with wild mushroom ragu, sage and topped with a fried egg.
NEBO's motto is "simplicity demands the finest ingredients" and that rings true in every dish from the handmade pastas to pizzas. While their famous zucchini lasagna that won "Bobby Flay's Throwdown" still remains on the menu here, they have added several new dishes, including branzino and squid ink pasta with salt cod confit.
The mussels (cozze) are incredible here – enormous shells filled with fresh mussels arrived in a bowl of rich lemon mascarpone cream with fennel. We had to sample their famous vegetarian gluten-free lasagna that you won't believe does not contain pasta (and you won't even miss it) but is instead layered with endless slices of zucchini, creamy ricotta, fresh mozzarella, pecorino and marinara sauce. The vitello Milanese should not be missed here, an enormous crispy veal cutlet arrived with fresh arugula, tomato, shaved parmesan cheese and aioli. The Arctic char special was just as good served simply and enjoyed immensely. Finish your visit to NEBO off right with a spumoni gelato sundae. You'll be glad you did.
NEBO is open for lunch weekdays and dinner Monday through Saturday beginning at 5 p.m. and is closed on Sundays. The restaurant is located at 520 Atlantic Avenue in Boston. For more information, call (617) 723-6326or visit them online at www.neborestaurant.com.
NEBO
NEBO