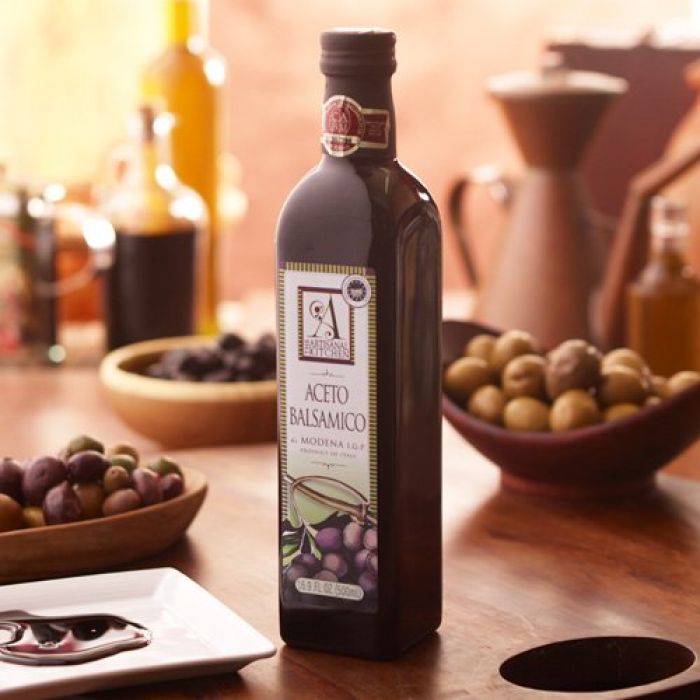 Artisanal Kitchen
The newest addition to Anna Zoitas' Artisanal Kitchen™ isAceto Balsamico di Modena, authentic aged balsamic vinegar from Modena, Italy.
It's easy to see why the Aceto Balsamico di Modena is a silver medal finalist by the National Association for the Specialty Food Trade. Made in Italy in wood barrels, the vinegar is nearly syrupy thanks to blending intense Lambrusco and Trebbiano grapes in a higher proportion to wine vinegar than other balsamic vinegars.
I tried theaged balsamic vinegar in the following recipe, supplied byThe Artisanal Kitchen.
BBQ chicken topped with caramelized red onions made with The Artisanal Kitchen Aceto Balsamico di Modena.
Ingredients:
4 medium-size chicken breasts
4 tablespoons Aceto Balsamico di Modena (purple label) by The Artisanal Kitchen
2 red onions, sliced thin
2 tablespoons of Three Olives Olive Oil by The Artisanal Kitchen
Pinch French Fleur de Sel.
Garnish: parsley
Instructions:
Preheat oven to 350 degrees.
Put the olive oil and salt in a medium-size frying pan and heat on low. When oil is heated, add sliced red onion to the pan and cook over a low flame for about 45 minutes, stirring occasionally, until onions are caramelized. Next, add The Artisanal Kitchen Balsamico di Modena to the onions and continue to cook on a very low flame, stirring frequently, until the onions have turned a dark brown color. Scrape the balsamic residue off the bottom of the pan, mix with the onions and cook for a few more minutes to allow the remaining balsamic to be absorbed into the onion mixture.
Cook chicken breast on the barbeque and, once done, lightly salt and drizzle with olive oil and balsamic vinegar over the top. Place a few tablespoons of onion mixture on each chicken breast, garnish with a parsley leaf and serve.
To finish off the meal, Organic Raspberry Jam from the Artisanal Kitchen makes a sweet ending, served with chevre and crackers.