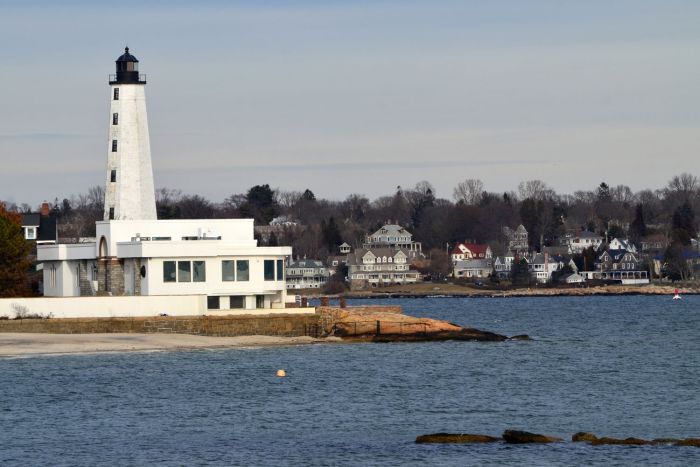 Photo Courtesy of Shutterstock

New London's Historic District on the Thames River waterfront is just a salty breeze away from Long Island Sound on Connecticut's southeastern shore. New London's entire population is well under 30,000, pretty small compared to the state's other coastal cities (like Bridgeport and New Haven) when exploring urban Connecticut. This town has a commuter rail, regular ferry service, and an Amtrak Acela stop all within the District limits.
Photo Courtesy of Muddy Waters Café

It all began in this once-upon-a-time whaling town back in 1646 thanks to John Winthrop, Jr. Walking along State and Bank Streets takes you past remarkably well-preserved 18th & 19th century buildings forming the bed rock of the district's architectural ambiance. You still get the feeling that captain Ahab or a reasonable facsimile may be hanging out in Muddy Waters Café taking afternoon tea or contemplatively smoking a pipe at City Pier. Where fishmongers and sailors once ruled the streets, the roughly 20 blocks comprising the District, host a remarkable variety of activities that can easily occupy a week.
Photo Courtesy of Sweetie's Bakery & Café

While there, I counted just one chain sandwich restaurant, the rest are mom & pops each with a unique approach to cuisine and preparation. Having breakfast at Sweetie's Bakery & Café is more like chowing down in a shotgun diner rather than a typical bakery. Breakfast involves fresh baked muffins made from scratch and some of the hardiest breakfast sandwiches I've ever eaten held together by fresh baked breads. Dinner at Seehund German Restaurant & Pub is an excellent choice for freshly prepared German dishes like Saurbraten and Schnitzel made from Piedmontese beef accompanied by a wide array of German beers on tap. Onsite fair trade roasted coffees further down Bank St. at the Bean & Leaf await weary, pavement-pounding feet.
Photo Courtesy of Custom House Maritime Museum

To this day, New London's naturally deep port accommodates tall ships of all kinds like the Charles W. Morgan, the last of an American whaling fleet once numbering more than 2,700 vessels built in 1841. Today, America's oldest commercial ship is still afloat as well as the Amistad and the Virginia. The New London Maritime Society runs Sentinel on the Sound Lighthouse tours ranging from full moon trips to Plum Island excursions requiring Federal clearance and occasionally having the chance to climb up into the lighthouse lantern, all within two-hour trips from shore.
Photo Courtesy of Hygienic Art

In addition to New London's readily apparent maritime heritage, the arts have blossomed into quite the walkable artists' enclave nourished in large part by Hygienic Art gallery on Bank Street. It all started in 1979 when New London's art community decided to model an art festival after the "Salon Des Independents," Paris' late 19th century art movement protesting aristocratic sensibilities by exhibiting their works in cafes located in the 'seamy' areas of the city. Now permanently housed in what was once a whaling company's provisioning store and crews' quarters, and then the town's only 24-hour eatery (1919-1996), it was saved from the wrecking ball by being listed on the National Register of Historic Buildings. Besides the Hygienic's outdoor sculpture garden and daring exhibits within, you'll discover murals painted by local artists on seemingly every building you look at, especially on Eugene O'Neill Drive and Green Street.
Photo Courtesy of Hempsted Houses

Look down for the 30 bronze plaques embedded in many of the sidewalks as you're walking to add context to your adventures via the city's Historic Waterfront District Heritage Trail. Commemorating landmarks ranging from Colonial to turn of the century, notable sites come alive like the home of Captain Bulkeley who sailed with American Naval hero John Paul Jones, Nathan Hale Schoolhouse and the English medieval-style Hempsted Houses framed by steeply pitched side gable roofs, a massive central chimney and diamond pane windows.
Photo Courtesy of Customs House Museum

The Shaw-Perkins Mansion built in 1756 boasts a rich history which began as a naval war office during the Revolutionary War, and saw a visit by Nathan Hale in 1775 and survived Benedict Arnold's 1781 burning of New London with only the kitchen being damaged. The Customs House Museum & Cultural Center, Whale Oil Row, a collection of Greek-revival buildings built between 1835 and 1845 also provide an authentic glimpse into the grandeur of this whale oil baron's abode. Next time you're in Connecticut, make sure to leave time to explore this historic town.