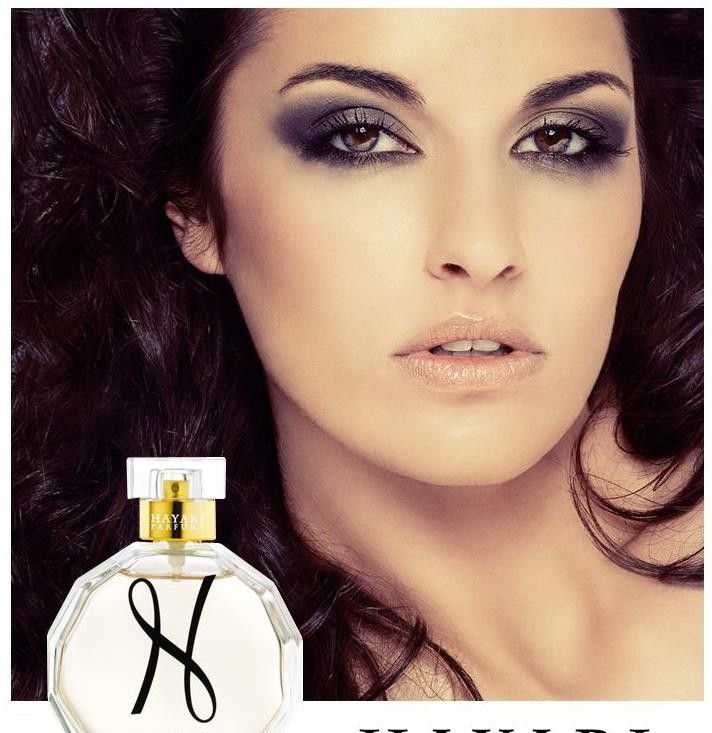 Exceptional without Exception defines the Hayari World. A rolling high five, a tangible symbol of Success, Fabulous dresses designed for those who have the Courage to Chase the Dream, Catch it and let it go, so they can Chase an even bigger dream. Because that's what the Pursuit of Purpose is all about!
The award winning designs defines what Luxury should be with available highlights in Hollywood, New York, Paris and Milan.




Hayari House of Paris's trip down memory lane guided, resulted in a collision of the rarified and time-honored beading and embroidery skills, not to mention its wildly color usage and standout cut and sewn designs. Hayari's collection of assured modernity, is shown in the majestic shell of Gala of AMFAR in Milano with Sharon Stone and Liliana Matthaus and a lot of celebrities. Ofcourse, our wonder working Liliana Matthaus accessorized in Hayari's Brown subtly Beaded evening gown sewn with techniques like patchwork and crochet and deftly harnessed into a gown of such tidy perfection. This Ageless gown was selected as one of the best dresses by the Celebrity Wonder during the Milano fashion Week!



"Gala of AMFAR in Milano 2012 with Sharon Stone during Milano Fashion Week
Hayari Paris selected for the best dresses with Liliana Matthaus by Celebrities Wonder."

The future called, it wants more of a Modern must in Conjunction of extremely tight stitches of Fabrics over the entire body. Fabrics tucked snug, Body Hugging, Fabulous Look and authenticity of the finished products. Hayari Utilizes the latest advancement in the Fashion World and the culmination of almost a decade of Iconic Designs.





Hayari House makes no attempt to hide the intent of it's exhilarating designs. They have one of the widests tracks in Class, Luxury, and Sophistication, allowing the dramatic Fender Flares and aggressive Silhouette. These are more than ordinary, but the best Luxury the World could ever have.




If you have to essentialize what is terrific and, to be honest, quite charming about Hayari House, this would be it. Long before the wonders of modern technology allowed us to flash forward to Fashion's Future. Simple, lightweight dresses, definitely is an approach to power dressing, though when it comes to Hayari's label, a soft touch is the most effective!





It's interesting that Hayari House are making choices a part of everyday lives, as the times and seasons officially turned in, the message is loud and clear: Go boldly and get noticed!




For the past few years, Hayari House has been one of the Haute Couture representation of the Fashion World. It's the details that make Hayari Handicrafted designs exceptional. With luxury of choice being part of their Success, Hayari House offers an alternative, with True indulgence which is now an inside job with one of the most sophisticated designs in the World.



Dresses were cut as a paper-doll's wardrobe. Look by look the complexity increased. Pattern pieces and decorative accessories linked strips of crochet-work woven by hand , so finely that they seemed the toughness and softness were introduced with prints designed to swirl and eddy around the body revealing further glimpses of flesh!



The fact that it' s been nearly a year since Hayari House made it's entrance into the US during the 2011 Mrs. Globe Pageant contest in California, With Alisa Krylova crowned as Mrs. Globe 2011, in an Exquisite, Flawless Hayari couture pageant gown, nothing prevented them from continuing to burrow in the psyche of their Success. From Parisian Atelier, to Moscow, to Hollywood Golden Globes and Academy Awards, to Amber Lounge in Monacco, to New york with Same Sky, then to Milano Fashion week and around the Globe in 360 days, Wow these men are Timeless and Tireless!


Every exclusive Fashion Show has its fair share of Gripes and Judgements. During the New York Fahion week the industry power players and celebrities made up the front row taking their place to watch the show. l personally have watched every Fashion show in the past, and never tiring of the artful revelation of personal detail of the dresses worn by fabulous faces, from Brazilian Beauty Gisele, to Forever 21 Heidi Klum- the most iconic faces in the Big Fashion World.

But this summer, New York Fashion Week showcased the work of these extraordinary international Designers: Dennis Basso, Alice + Olivia, Badgaley Miscka, Biphu Mohaptara, Carlos Miele, Carolina Herrera, Catherine Malandrino, Chado Ralph Rucci, Christian Siriano, DKNY, Emerson, J Mendel, Jason Wu, Jenny Packham, and countless of other wonder working designers. These Guru's were awarded "Best Spring 2013 Runway Gowns." With exhilarating styles as seen below.


Dennis Basso





Alice + Olivia





Badgaley Miscka





Biphu Mohaptara





Carolina Herrera



.
The decision by " Hayari House" to debut their collections in US sparks a New York Media storm following the Fashion Week. Hayari House of Paris showcased their sexy trendsetting styles, which has unbelievable sophistication and endless memories. Just as sweet and beautiful as a summer romance!
In comparison with the gorgeous dresses showcased by other designers during the New York fashion week, None of these Designs were anything close to Hayari's Exquisite, Timeless, Flawless and impeccable Designs. Compare and contrast and be the Judge!

Nabil Hayari and Hugues Alard are the ones who were visionaries , businesswise. They saw how this could be, they had their hand on the rudder of the ship, capturing the web generation and Hollywood Celebrities in ways their competitors can't. But, time flies when you're having fun gazing at the Angelic bodies striding down the runway in a catwalk dressed in Hayari Couture Gorgeous Gowns.






Recently, Hayari House of Paris have Harnessed the collective power of the Parisian Atelier to raise awareness of HIV/AID'S through Same Sky, a Charitable organization that devoted their organization by employing African Women Living With the disease. Same Sky teaches these victms how to make beautiful artistic necklaces and bracelets and also provide an avenue for sales to popular celebrities.




Oscars 2012: Academy Award winners
Writing (adapted screenplay)
( Getty Images; Merie Wallace / Fox Searchlight )
"The Descendants" won the Academy Award for adapted screenplay. The Oscar went to Alexander Payne, top left, Jim Rash and Nate Faxon.
Shailene Woodley loves "Only For Her" by Hayari.


The Extraordinaire of Hayari's unique handicrafted Perfumes is an Art and a Love Innovation. The exhilaration of these trio perfumes leaves you a choice of any of the fragnances designed for those who love Luxury, yes, but also for those who love to have fun.







For more information contact: www.Hayari-Parfums.com and www.Hayari-couture.com/