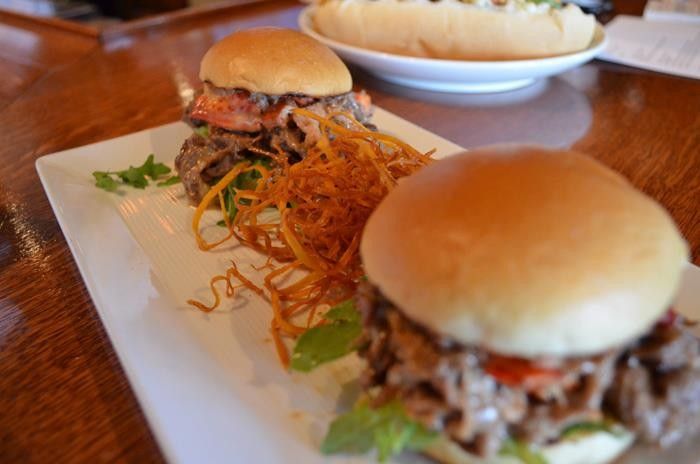 The Mooring
Summertime in New England means eating as much fresh seafood as possible. At least that's our idea of summer. If you are like us, we are always on the lookout for some of the best seafood restaurants around.
We recently headed down to Newport, Rhode Island and discovered The Mooring Seafood Kitchen & Bar. The oceanfront restaurant is located right on Narragansett Bay and has both indoor seating in the main dining room, adjacent bar and outdoor seating for al fresco dining. When we arrived, we were greeted and shown to a small table in the main dining room (we requested a larger table but were unfortunately told they were reserved for bigger parties).
Get started with a dozen fresh-off-the-boat Blue Point oysters served with a side of fiery (and admittedly addicting) cocktail sauce. It was difficult not to fill up on the delicious warm bread served in a bag with side of creamy butter. We also sampled the surf and turf sliders, the Mooring's unique take on traditional hamburger sliders. One of their signature appetizers, two sliders arrived featuring shaved sirloin and lobster combined with a creamy cheddar ale sauce topped with arugula and a sampling of crispy sweet potatoes. Other appetizers here include pork belly, mussels, fish tacos and a "bag of doughnuts" (not the sweet kind, but rather lobster, crab and shrimp fritters with chipotle-maple aioli).
There is a good selection of sandwiches (think pan roasted cod, crab BLT and oyster po'boy) and salads (don't miss the seasonal sliced watermelon with arugula, red onions, cucumber and ricotta topped with a watermelon-mint dressing).
Moving right along, we sampled the grilled swordfish, a generous fresh portion served with a nice lights saffron beurre blanc. The 14-ounce New York sirloin was cooked a little more than our medium rare request but the tasty crisp potato croquettes and grilled asparagus made up for the oversight.
If you can save room for dessert, choose from carrot cake cr?me brulee, butterscotch banana cake or a chocolate tasting.
The Mooring Seafood Kitchen & Bar is located at Sayers Wharf in Newport, Rhode Island. For more information, call (401) 846-2260 or visit www.mooringrestaurant.com.
The Mooring
The Mooring
The Mooring