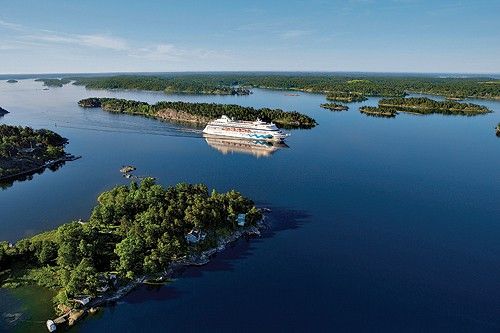 If you have been toying with the idea of taking a cruise holiday, now is the time to do it. They are more affordable than ever and travelling on the water has never been more comfortable. Cruise ships resemble the very best in quality resorts – they just happen to float! One of the key benefits of an ocean based break is the changing scenery – coastlines, islands and new ports offer you lots of opportunity for excursions – perfect for a day out on dry land. And for those who aren't keen on flying, Cruise 1st have no fly cruises from the UK so you can start your holiday from Southampton, Dover or another major port. It's a major advantage for anyone who doesn't like flying but loves to travel.
One of the most spectacular cruise holidays is a trip around the coastline of the Scandinavian countries. Their ancient landscape is beautiful – and the countries all share a strong Nordic history and culture. It's easy to imagine how Viking warriors would have travelled the same route in their long boats, passing through the rugged fjords and water inlets.
Denmark
Denmark has a modern and contemporary lifestyle, but it has many historic castles and one of the most well established monarchies in the world. City life is exciting with the latest in modern architecture, and a great night life. It's got a great transport system – so you can easily visit the outskirts of the town – great for when time is short. Danish design is known for its clean, cool lines, and a trip the Danish Design Museum will give you ideas for a fresh look at home!
Iceland
Iceland is one of the most geographically challenging countries – with volcanoes, geysers, tumbling waterfalls and thermal lagoons for that impromptu hot bath! It's a very different sort of place to its nearest neighbour – America. Icelanders are relaxed, creative and practical people, and this is reflected in their culture and appreciation of their landscape and way of life.
Finland
Finlandhas wildly differing regions – from enormous ice fresh lakes, to the wilds of Lapland. Its natural beauty, clear skies and friendly people make it a great stop over destination. If you are feeling in need of exercise, you can enjoy a trip with a Reindeer safari, take the plunge and go ice swimming, or don a pair of skis for some overland walking. The shopping districts have up to the minute stores, and there are plenty of museums and markets to enjoy.

Norway
Norwayis known as the land of the midnight sun and the prime place for witnessing the magical Aurora Borealis – bands of luminous light playing across the night sky. But if gazing at the stars leaves you itching for some activity, you are in the right place. Mountain walks, hiking and biking and animal tracking are all on offer in Norway.

Sweden
Swedenhas lush countryside and the mountains are covered in meadow flowers in the spring and capped with snow in the winter months. Ornately decorated cottages and fresh water ponds dot the countryside – it's perfect for photography lovers. The wooden toy outlets are brilliant for that special gift too – they make marvellous rocking horses and Dolls Houses. The Swedish have a great reputation for extreme spa treatments and green living – so combine the two at an Eco lodge and try out the hot hay treatments followed by ice bath plunges!
You can experience all of the above and more on a Nordic cruise. Once you have settled into your cabin, you'll have the fun of exploring the ship – which can often take a day or two – and the facilities can be spectacular. Ice rinks, lecture theatres, spa centres, gyms, libraries, cinemas, you name it, they'll be something that suits your idea of a break.