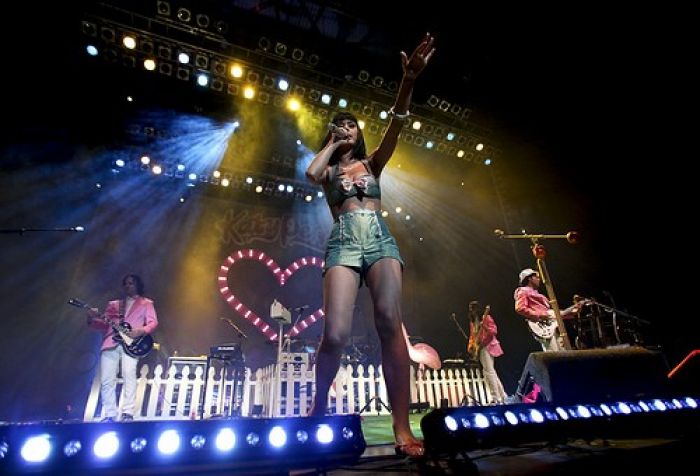 Josa Goulazo
Approximately nine months after her divorce from Russell Brand was finalized, Katy Perry has put a home that the two had bought together up for sale. What's interesting is that while they bought the home as a couple, multiple reports state that they never actually moved into the house.
Originally bought for $6.5 million, the house's current listing price is $6.925 million. Sources close to Perry say that while this is the first time she's actually put it up on the market, as she tried finding a private buyer for quite some time.
The Basics
Even though it hasn't sold, the home and its property are quite beautiful. Originally constructed in 1921, the house has a total of 8,835 sq. ft of space. That space includes seven bedrooms and eleven bathrooms spread out over two stories.
The house sits on three acres, and additional features of the estate include a waterfall pool, carriage house and two guesthouses. Located fairly close to Storer House, which Frank Lloyd Wright built in 1923, and Chauteau Marmont, this home would be perfect for anyone who has a love of Hollywood history.
Inside the Home
While a large gate protects the home's privacy, there are nearly two dozen pictures that go along with the house's online listing. Once you go up the long driveway and inside the sand-colored home, you're greeted by a spiraling staircase, large stained glass window and exquisite ceiling fixture.
Thanks to the very high ceilings of the first floor, the space feels even bigger than its already-impressive size. One of the main features of the first floor is a very large living space. It has several very attractive details, including an intricate wood ceiling and walkway that goes across the top of one of the walls.
Throughout the house are many large windows, which provide great views of different parts of Hollywood. There's a large dining room that features a ceiling with a very interesting texture. As with most of the rest of the house, the kitchen is also very open. It features gorgeous kitchen cabinet hardware, and boasts a large marble island with plenty of space for family, friends or guests to sit.
In addition to being quite large, the upstairs bedrooms are very ornate and make great use of natural light coming in on all four sides of the house. Most of the upstairs space also creates a great contrast between light walls and dark wood floors, cabinetry and accents.
Since she also still owns an apartment with her ex-husband, hopefully Perry will be able to get a little more closure by finding the right buyer for this magnificent mansion!