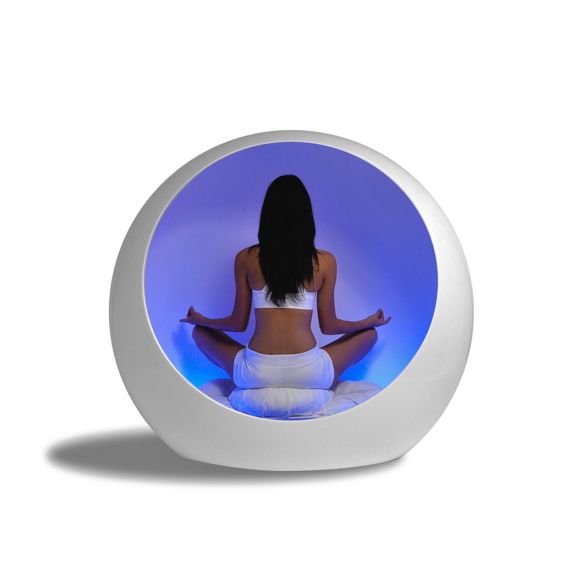 Alberto Frias
Does enlightenment get easier with the right tools? Alberto Frias, a Phoenix-based art, architecture and furniture design studio, has updated the high-tech OM Meditation Pod  with Nucleus Micro Ti speakers to add high quality ambient sound to the relaxation experience. 
This isn't Frias' first take on the pod, his earlier creation, the OM Transport Perceptual Pod was is a cozy nest for sleeping. The OM Meditation Pod is designed to have one person sitting up with a curved space of LED lighting as you rest on organic cotton cushions. The 62" L x 34" W x 55" H space is made of soy-based fiberglass.
"The new OM Meditation Pod is a transformation from my original Transport Perceptual Pod," states Frias.  "It allows you to sit straight up and meditate while relaxing in a soothing audio/visual experience.  As you sit facing back, you absorb the white domed space, which transforms into a personal sky for a fusion of colored light and resonating sound." Frias also sells the the 3sum pod which allows three people to share the same space while having the illusion of being alone. 
The OM Meditation Pod sells for $12,000 and has a six week lead time for delivery. 
Alberto Frias
Alberto Frias