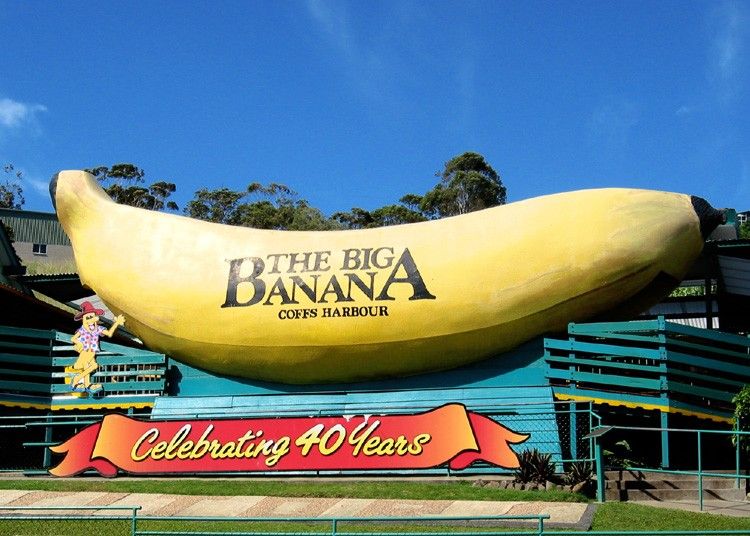 Australia is a big country and its people have a big sense of humour. One way in which this manifests itself is in the weird and wonderful, often strange –'Big Things'. These are objects that are either related to the location or an activity, or sometimes linked to marketing of a product, commodity or business. There are huge, overblown representations usually placed in a prominent position so as not to be missed.
The list of big things includes:
1.     The Big Pineapple at Woombye, QLD
The tropical pineapple fruit is much loved in the area of Queensland and in 1971 a large 16 metre tall model pineapple was erected in its honour. The Big Pineapple has since been a huge attraction for holiday goers. After forty years, it started to look a bit worse for wear and was closed in 2010 for one year to be painted. Now it's looking better than ever and every Saturday, local farmers and growers come with fresh produce to sell. There is even a music festival called 'The Big Pineapple Music Festival' with local and international artists.
2.     The Big Merino at Goulbourn, NSW
In the regional town of Goulburn in New South Wales, you'll find one of the most impressive 'Big Things' of all – the 15 metre Big Merino. It's a huge replica of a merino ram with large tusks and hooves. Locally nicknamed 'Rambo', it has become a favourite attraction in the area. Australia has a rich history of producing some of the finest wool in the world. So when you visit the Big Merino you'll be able to purchase some quality wool products such as wool scarves, merino possum wear and even alpaca products. There's also an impressive wool exhibition on display on the second level.
3.     The Big Lobster at Kingston, SA 
Locally known as "Larry" the Big Lobster is 17 metres in height and 15.2 metres in length. It's located on the Princess Highway and is a great place to stop for a quirky photo moment and some delicious seafood. You can choose some of their mouth-watering salmon for breakfast or some tasty fish and chips for lunch or dinner. Indeed, you won't be leaving hungry!  
4.     The Big Banana at Coffs Harbour, NSW

This huge Aussie icon is located on the Pacific Highway north of the coastal city of Coffs Harbour. With the slogan "it's a whole bunch of fun" there are lots of activities for the kids. They can rush down the 650 metre toboggan track, slip down the world's largest waterslide, or glide on the Big Banana's very own ice rink. And while these exciting activities will keep the children entertained, adults can enjoy 'The World of Bananas' where you'll learn about the history of bananas. You can also explore the Sunset Lakes Nursery where you can pick out beautiful plants and pots to add to your garden at home.
The Big Trout at Adaminaby, NSW
A popular activity for Aussie locals living near the ocean or river beds is fishing and around the town of Adaminaby located in the Snowy Mountains, trout is often the catch of the day. It was erected in 1969 and was designed by local artist Andy Lomnici. Standing 10 metres in height and made out of fibreglass the Big Trout has become a well-known monument.  You can visit it any time of day for a quick holiday picture!
Once you've finished the trail of Australia's 'Big Things' you'll understand Australia's whacky sense of humour and come away with some delicious fresh food, unique souvenirs and some memories to last a lifetime.
Hayman Island's Digital Marketing Executive, Gina, loves nothing more than visiting new lands, meeting the people and learning different languages and customs. She also happens to work for one of the most beautiful islands in the world, and is fortunate enough to explore the Great Barrier Reef and Islands as part of her job.