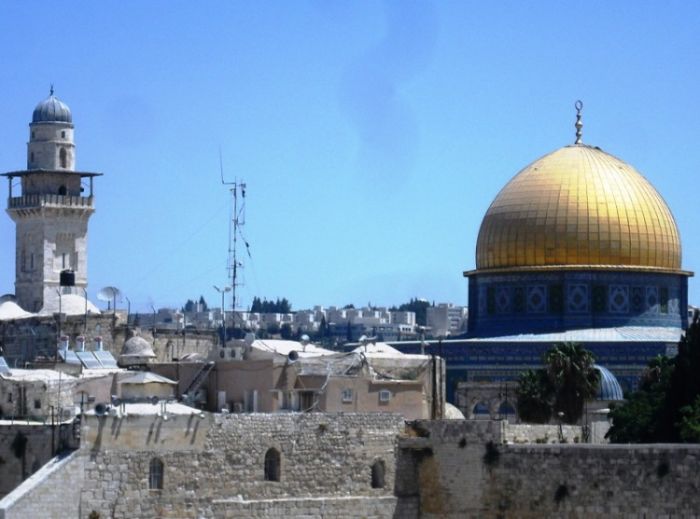 Petal
If you happen to be stopping in Israel on route to your final destination and you just can't resist the temptation to set foot in the Holy land then it's perfectly feasible to use the time you have during the stop over to see some of the country. Presuming you are arriving during the day, and presuming you will be in Israel for between 4-12 hours you can make a quick excursion out of Ben Gurion airport either independently or with an organized tour.
If you have only a day and all of Israel to see what should you do?
Well, the absolutely obvious destination is Jerusalem. Whether you're Jewish, Christian, Muslim or none of the above the iconic city, one of the oldest in the world, is where you should spend the short time you have in Israel.
How to get from Ben Gurion Airport to Jerusalem (and back)
Public transport is not a good option, the train is slow and the buses will get you to the Jerusalem main bus station which is not near the Old City. Egged bus 947 leaves every 20 minutes from the Ben Gurion El Al Junction to Jerusalem, the bus journey takes 1.1 hours. However rather take a taxi, sherut (shared taxi) or organized tour if your time is limited.
Getting a taxi from Ben Gurion to Jerusalem
If you opt to go-it-alone exit the terminal 3 arrival hall of Ben Gurion and go to level G there you will see a line of waiting taxis. The taxis are run under the supervision of the airport authorities, are safe and the fares monitored. For taxis to Jerusalem you can use the Hadar Lod Company or Nesher Tours which operate taxis specifically to Jerusalem. A shared taxi (sherut) will cost you between 40NIS and 65NIS. If you take a private taxi the fare is between 270-320NIS approximately and surcharges for luggage, extra passengers, using the fast lane or toll road may apply. The fare is quoted at the beginning of the journey, the meter is started and the fare must remain as originally quoted. You should ask for a receipt when you pay.
Either arrange the return journey with the driver and settle on a time and place for the pick-up or take the taxi company's phone number so you can call later. Get the taxi or sherut taxi to drop you off at either the Dung Gate (Shar Hazevel) or the Jaffa Gate (Shar Yaffo) of the Old City. The journey by sherut can take 40 minutes but you have to make the rounds dropping off other passengers along the way. You also have to wait until the bus fills up before you set off. A normal taxi (not shared) will take 40 minutes to an hour to get to Jerusalem.
Taking a "Ship-to-Shore Tour from Ben Gurion to Jerusalem
Several Israeli tour companies operate "ship-to-shore" type tours from Ben Gurion (and also from Haifa and Ashdod if you are stopping in Israel on a cruise) these tours can save you a lot of time and money especially if you are a group of four or more people taking the tour. A standard tour with one of these companies can pick you up when you arrive at the airport and whisk you off to Jerusalem for a tailor-made tour of the city. Alternatively (and cheaper as well) if you have time you can join one of their standard day tours to Jerusalem which have pick-up points in Tel-Aviv and other cities. In this case you can book a standard one day tour of Jerusalem online, take a taxi to a Tel-Aviv pick-up point (usually a hotel) and from there join the tour.
Bear in mind that not all tour companies are created equally, some can tailor-make your tour and give you personal attention and others will herd you from one site to the next. Choose a reputable company which offers a "business class" tour which takes you in a smaller group and gives you more personal attention.
Whichever method you choose to use to reach Jerusalem once there concentrate on the Old City where most of the historic and religious sites are within walking distance of each other. On foot within the walls of the Old City you can see the Wailing Wall, Dome of the Rock (only Muslims are allowed here), Church of the Holy Sepulcher, Via Dolorosa, King David's Tomb, the Room of the Last supper, several museums and much more. Also within the walls are plenty of restaurants and fascinating markets.
Time your trip or tour properly to return to Ben Gurion in plenty of time for your flight. This usually means arriving at least 2 hours before take-off. Whatever you do use your time in Israel wisely, plan ahead and don't miss the world's holiest city.
Petal
Tower of David, Jerusalem
Petal
Narrow lanes of Jerusalem