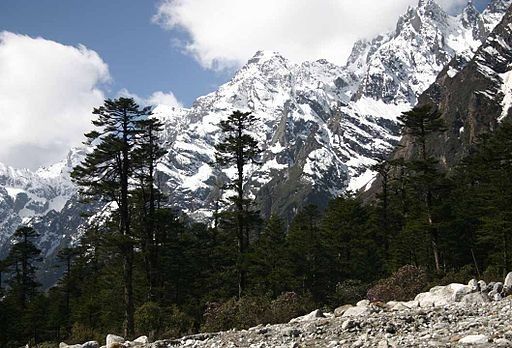 Creative Commons
It is holiday season and everybody is getting ready to spend quality time with their loved ones. Some spend time with their families preparing for the upcoming festival where as others plan a trip to the mountains to enjoy peace and tranquility. There are several travel agencies who offer excellent discounts on packages to visit foreign countries also. They offer customers attractive EMI options so that it becomes easy on the pocket. Due to global meltdown and several people living on tight budgets everybody cannot afford to go abroad for a holiday. So the next best option is to go hiking or camping to the nearby mountains. Whichever parts of the world you live in mountains are there everywhere. Be it with your children or with your friends plan a back packing trip and camping in wilderness. It can be exhilarating and fun.
Here is a check list of items you'll need when you go hiking in the mountains. Click here to read more about hiking, camping and skiing equipments.
Clothing
Unless you wear the right kind of clothes you'll not feel warm in the mountains. So take your winter gear, cardigans, jackets and pullovers that will keep you covered completely. Your head gear comprising of caps and hats can keep your ears covered from cold. Shoes and hiking boots and over alls are a must for your hiking trip. Choose thick socks that can soak up the sweat while climbing and also keep your feet well padded. Also carry a compass/ altimeter watch to know where you're going. Nowadays thanks to GPS you may not get lost. Once all this is set you need to decide about the outdoor equipment you'll need to go hiking.
Tent equipments
Nowadays there are readymade camp tents available in the mountains for the sake of tourists. You needn't carry camping gears with you. Right from lanterns to tents and bedding everything is provided for. Even cooking stove and essentials are available at the site. You'll need a saw to cut wood, a torch and some essentials. You can always hire these. Food cartons and drinks need to taken care of. Try to keep your back pack light so that it is easy on your back while climbing. For interesting reviews on tents, skiing and camping equipment you can visit here.
There are some camping sites where even network connection is available. But my advice would be to leave behind your cell phone and lap top. Enjoy the natural surroundings with the birds chirping and forest cries. This will invigorate you both mentally and physically. Away from the hustle, bustle of city life will be a welcome change to you as well as your family.
First Aid kit
Besides clothing and food, a first aid kit is very important for your hiking trip. Band aids, plaster, cotton, gauze, anti rashes creams, ointment for cuts and burns, a tiny scissors, spray for sprains and aches ( you're sure to twist your ankle while climbing) are a must in your first aid box.
Once all these items are in place get ready to go on your hiking trip. You're sure to enjoy it.