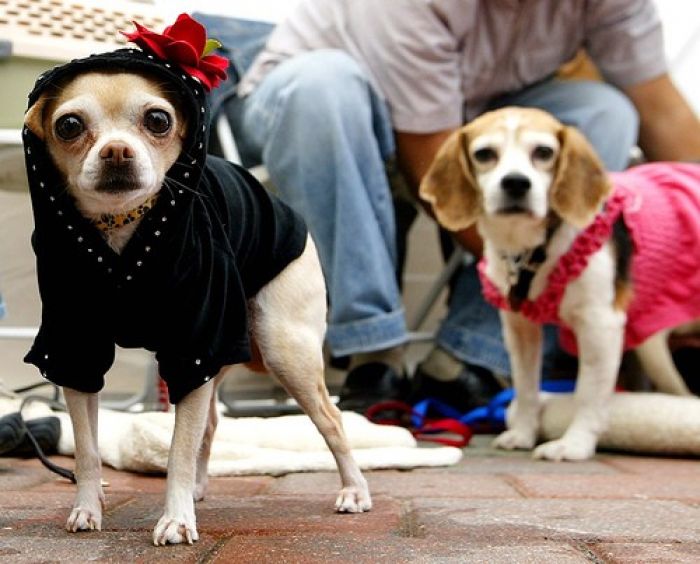 CC image from Flickr
Americans love their pets, spending over $53 billion every year on pet care and related products. Perhaps unsurprisingly, those of us used to luxury demand the same for our pets. Whether at-home or on the go, today's pets have access to unprecedented levels of amenities.
Pet Homes
If you're willing to spend the money, you can design a doghouse to mimic any building you want. Replicas of mansions are popular, but you could also provide your dog or cat with a home based on castles, palaces or seats of government.
You can order uniquely designed dog houses and cat trees to blend in with landscaping or home furnishings. Some natural-wood cat trees are works of art by themselves. Even the humble litter box has evolved. You can buy litter containers disguised as coffee tables or ornamental furniture.
Birds are the third most popular pets in the U.S. after dogs and cats. Today's high end bird enclosures are masterpieces of acrylic plastic and woodwork, so you can enjoy viewing your pet without the obstruction of cage bars. Custom-made stainless steel aviaries are expensive but allow your birds to enjoy the outdoors in clement weather.
Pet Hotels
While many luxury hotels offer pet care, you may not want to take your pet on vacation. A live-in pet nanny offers one solution to human-only vacations and the animal doesn't experience the stress of adapting to a new environment.
Your other option is to book Fido into a pet hotel, where he'll be as pampered in his vacation as you will be during yours. Pet hotels offer pets furnished apartments, complete with comfortable twin beds, animal-friendly television programming and webcams so owners can check the status of their pet 24/7. Some even include a human caregiver who curls up with your pet at night.
As with any respectable resort, a pet hotel offers guests multiple activities. A pet hotel includes water activities, playrooms, spas and world-class kitchens to provide your pet with the healthiest and tastiest menu possible.
Jet-Set Pet
Even private jet companies understand a pet and her human sometimes can't bear to be parted. At least one private company in California offers jets designed for travelling with pets. Before a flight, the company builds a profile of your pet's likes, dislikes and medical conditions. All staff are trained in the unique needs of jet-setting animals, and certified in emergency pet care.
The physical layout of the jet cabin reflects the company's commitment to animal comfort. Retraining seats are available for pets during landing, takeoff and turbulence. Emergency oxygen masks are designed with pets in mind, and the company also includes pet flotation devices.
Best of all, the company does all this — along with chef-quality pet meals — without compromising human comfort. The result? Both you and your pet can travel in style.