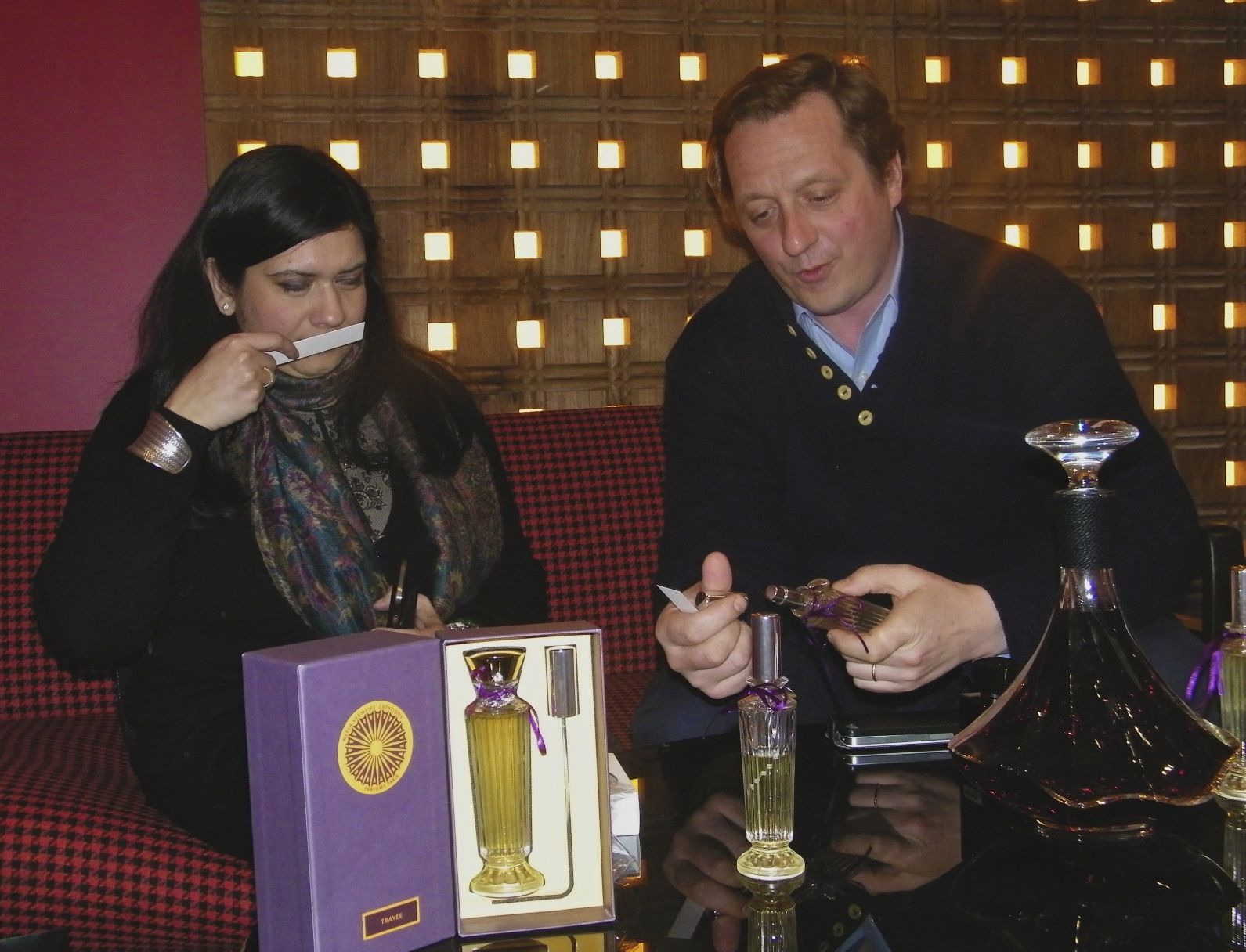 Columbia Hillen
Established several months ago in a new location on Rue Castiglione in Paris, just meters from Place Vendome across from the Tuileries Gardens, Jovoy Paris is already becoming a popular home for over one hundred perfume creators.
Francois Henin, 36, the pleasant, upbeat president and owner of the perfume house founded in 1923, seems always to have a smile on his face as he invites people to sniff around the red and black shelves of his large yet cosy establishment.
Herein, within a 175 square meter space, is a multitude of sensory delights.
Francois says his dream is to present "rare, often forgotten fragrances produced by small houses," which possess what he terms, "a strong individual identity."
"These creators are committed to using raw materials that are noble, natural and sometimes exclusive," he explains. "A new sub-family of rare perfumes is beginning to rise to the fore: haute parfumerie. Generally, these are perfume extracts in bottles specially designed by artists in small quantities and with a very limited distribution, obviously targeted to customers who really love perfumes and know how to appreciate them."
To best capture a perfume's true scent, Jovoy uses domes and not paper as aides for customers to capture the essence of different fragrances.
"I am very excited about our new project - the velvet-lined perfume trunk - developed exclusively with T.T. Trunks," he tells me while showing me the device designed to tickle the noses of aficionados. "Perfumes are distributed in these kinds of trunks and remain at the disposal of hotels. We can select sixteen perfumes to be presented either as a sort of mini-bar, or a personal miniature-shop-within-a-shop."
Francois is very optimistic that his idea will start, "a small revolution" in the way rare perfumes are distributed.
Jovoy was founded by Blanche Arvoy, one of her hallmark features beingher creative presentations – hand-chased bottles from Baccarat encased in luxurious boxes.After the Second World War, the company began operations in the United States, where it enjoyed its greatest commercial success and where some of its perfumes even inspired a musical production, "Perfumes Set to Music." Francois and his family took the company over in 2006and opened in France with 'Les 7 Parfums Capitaux,' seven new fragrances representing all the main fragrance classifications: Hespéridé, Fougère, Chypre, Marine, Poudré, Oriental and Boisé.
While now working on a brand new fragrance, Francois offers through Jovoy Paris eight different perfumes - Ambre Premier, L'Arbre de la Connaissance, L'Enfant Terrible, La Liturgie de Heures, Psychedelique, Oriental, Poudre and Private Label, as well as a comprehensive range of candles.
One promising young creator whose work is presently displayed at Jovoy Paris is Calcutta-born Neela Vermeire, an energetic qualified solicitor with a passion for perfumes. She has teamed up with French perfumer Bertrand Duchaufour (who previously created for Penhaligon's, Amouage, Comme des Garcons, Givenchy and Christian Dior).
Together, under the name Vermeire Creations, they have developed three distinct flagrances – Trayee, Mohur and Bombay Bling. Neela describes them as, "a tribute to three different eras of Indian history spanning thousands of years - the spiritual tranquility of ancient India, the cultural and architectural splendors of courtly life during the Moghul era and the British occupation and the chaos and dynamism of modern India illustrated by the city of Mumbai (Bombay)."
Inspired by the Hindu origins of the first three Vedas - Rig, Yajur and Sama - Trayee (pronounced 'try-ee,' meaning 'the triad') is a woody scent, with sandalwood and oud as base notes, centered with a burst of cool, spicy ginger and romantic jasmine absolute. The perfume itself has a high percentage of natural ingredients used in many Vedic ceremonies. My wife, Columbia, a perfume addict, informs me that wearing Trayee reminds her of balmy, soft summer evenings spent in the backwaters of Kerala.
Mohur - a dedication to all the best in the Mogul and British Raj eras - is a rose-based fragrance, a combination of opulent Moghul rose perfumes with a distinguished spicy leather bouquet. The word 'mohur' derives from Sanskrit and refers to the most valuable gold coin in India's history.
With an emphasis on modern India, Bombay Bling is a well-balanced fragrance of fruity, floral, and creamy oriental scents, with a surge of green mango. Vermeire Creations are available in several cities including Paris, Munich, Moscow, Los Angeles and Zurich, or directly online at www.neelavermeire.com
Among the other boutique and exclusive perfumes one can enjoy in the Jovoy Paris are Amouage, Andy Tauer, Atelier Flou, Brecourt, Casamoratti, Clive 
Christian, David Jourquin, Dorin, Coudray, Evody, Frapin, Grossmith, Histoires 
de Parfums, Honoré des Prés, Hors Là Monde, Hubert Maes, Humiecki and Graef, Heeley,
 Isabey, Jacques Fath, LT Piver, Parfums de Marly, Micallef, Miller
 Harris, Masaki Matsushhima, MDCI, Nobile 1942, Olfactive 
Studio, Parfums d'Orsay, Parfums d'Empire, Poiray, Pure distance, Puro, Rancé, Undergreen,
Vero Profumo, Visconti and Xerjoff.
For more information about Jovoy Paris, check www.jovoyparis.com
Columbia Hillen
Francois Henin
Columbia Hillen
Neela Vermeire
Columbia Hillen
Columbia Hillen
Columbia Hillen
Columbia Hillen