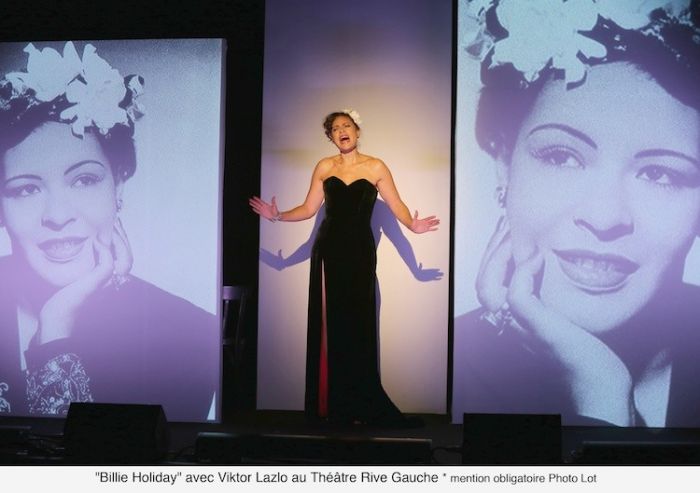 Theatre Rive Gauche
With so few live stage performances in Paris in English, visitors to the City of Light may not want to miss out on a multi-media show in Montparnasse about the life of American jazz singer and songwriter Billie Holiday.
Backed by a talented, all-male four-piece band, featuring piano and saxophone, charismatic performer, Viktor Lazlo, re-enacts the colorful life of the Philadelphia-born star with excellent renditions from the singer's wide repertoire interspersed with spoken biographical narrative. Giving the show added dimension is the creative use of Man-size, on-screen panels and old video of the singer who died in New York in 1959. While the narrative parts are in French, the songs are all performed in English. The show is due to end June 2.
Lazlo has impressive stage presence being both beautiful, facially expressive and a dancer, as well as having a delicious touch of innocent naughtiness about her, especially obvious in her interaction with the cheeky saxophone player who at one point leaves his place offstage to flirt with her.
The performer also possesses wide voice range allowing her to master a plethora of songs from the sultry, timeless ballad, 'Summertime' to the heart-breaking 'Strange Fruit,' about the cruel treatment of black people in the US during the days of segregation and the struggle for civil rights. (Holiday was among the first black singers to include the plight of blacks in her songs).
Making four quick costume changes, the other songs Lazlo performs include 'All Of Me,' 'Blue Moon, 'I'll Be Seeing You,' 'My Man' and 'Easy Living.' She even engages in a duet with Billie (whose real name is Eleanora Harris), singing while an old clip of the influential singer performing the same song is played on a large screen beside her.
The historic Theatre Rive Gauche is a wonderful place for such a show. With soft, cozy seating, it is a small and intimate venue with no member of the audience far from the stage. Being in the Montparnasse area, it is also close to what is known as 'the creperie street' due to the large number of eateries offering this type of cuisine and to places that Nobel prize winning author, Ernest Hemingway, frequented, so together they make for a full-day's outing in central Paris.
For more information, see http://www.theatre-rive-gauche.com/Au-theatre-Billie-Holiday.html
Theatre Rive Gauche
Theatre Rive Gauche