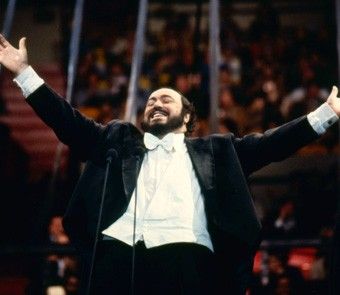 Courtesy PBSGreat Performances
Like Enrico Caruso before him, Luciano Pavarotti extended his presence far beyond the limits of Italian opera. Quickly establishing his rich sound as the great male operatic voice of the 20th century, he expanded his reach to stadium concerts and pop collaborations that brought him fame beyond measure.
Audiences adored his larger than life personality, childlike charm, generous figure and happy go lucky style. This program celebrates the 50th anniversary since the launch of the international phenomenon. In 1963, he debuted in Amsterdam, Vienna, Zurich and finally London. Even today, it is his powerful sound, with its natural grace and brilliant color, that still leads many to consider him the world's greatest voice. Pavarotti brought opera to the masses and made football fans worldwide fall in love with "Nessun dorma." This program includes that hit and other arias from La Bohème, Rigoletto and Aida; Neapolitan songs in arrangements by Henry Mancini, including "Mamma" and "O Sole Mio"; and popular duets with Bono, Sting, Vanessa Williams and Eric Clapton.
The 50th anniversary of the launch of Pavarotti's of meteoric international career will be celebrated in "Pavarotti: A Voice for the Ages," airing in December on THIRTEEN's Great Performances. In New York, THIRTEEN will air the special Saturday, November 30 at 6:30 p.m. This one-hour program includes "Nessun Dorma" and other beloved arias from La Boheme, Rigoletto and Aida; Neapolitan songs in arrangements by Henry Mancini including "Mamma" and "La mia canzone al vento," and audience favorites "O Sole Mio" and "Torna a surriento"; as well as popular duets with Bono, Sting, and Eric Clapton.
The program will include a segment from an historic recording of Rodolfo's aria from La Bohème, 'Che gelida manina' ('Your tiny hand is frozen'), that had been lying dormant in the archives for 50 years, only now to be unearthed by Pavarotti's widow, Nicoletta Mantovani. This significant track will also appear on Pavarotti: The 50 Greatest Tracks, released by Decca in the U.S. on October 22 celebrating his 50 years recording for the label. Already released in the U.K., the career-spanning collection has catapulted the world's most beloved tenor back to the top of the charts in England six years after his passing.
Half a million people flocked to hear the maestro in Central Park and millions worldwide watched on television. Audiences adored his larger than life personality, childlike charm, generous figure, and happy-go-lucky style. To his adoring fans, the tenor became a titan of popular culture. In 1963, he launched an international career when he debuted in Amsterdam, Vienna, Zurich and finally in London substituting for the ailing Giuseppe di Stefano as Rodolfo in La Boheme at Covent Garden. Even today, it is his powerful sound with its natural grace and brilliant color which still leads many to consider him the world's greatest voice. It is Pavarotti who brought opera to the masses and made football fans worldwide fall in love with "Nessun dorma."
Courtesy PBS GreatPerformances
Luciano Pavarotti
Courtesy PBS GreatPerformances
Luciano Pavarotti
Courtesy PBS GreatPerformances
Luciano Pavarotti
Courtesy PBS GreatPerformances
Luciano Pavarotti Henry Mancini