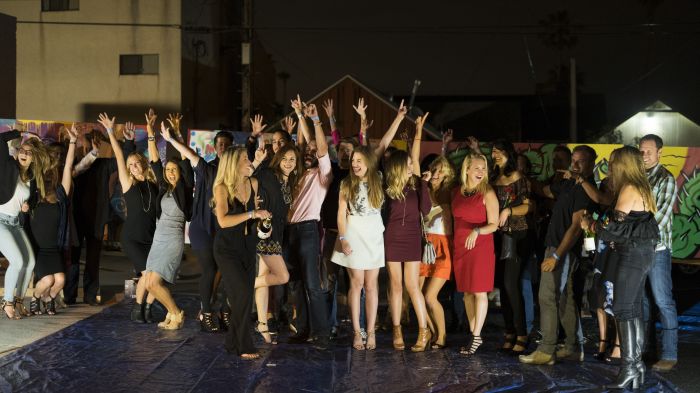 Photo Credit: COLOR by PopUpParty

It was a dream that has become a reality for business partners and Adolfo Meza and Leonardo Guinea to launch an event platform that would provide a passage to fascinating, one-of-a-kind events. PopUpParty's mission is to empower talent to create, venues to succeed and patrons to indulge through the common love of food, music, art and the element of surprise.
"PopUpParty was created with the intent to spotlight local venues and to give people an experience they've never had before," Meza shares. "We will have VIP guests, performers, live artists, notable chefs and mixologists, all interacting to complete a brilliant tapestry that will become widely known as a PopUpParty branded event," continued Meza.
They achieved exactly that with their exclusive launch party, COLOR, a PopUpParty that was themed on the vibrant heritage of Mexico City and delivered a total immersion of the senses. An unforgettable cultural phenomenon, including live street artists, a contemporary take on traditional Mexican cuisine, Premium Tequila bars, live DJs and many other meticulously arranged stimuli assembled by PopUpParty.
Future PopUpParty's include:
RAW - based on guest interaction with multiple art forms including denim displays with sushi and live slam poetry.
SOURCE – draws inspiration from existential film productions such as The Matrix and Inception. This event is mysterious and invites attendees to explore the labyrinth of existence.
SOL - PopUpParty goes POOL PARTY! This summer party is a bloggers dream. Pools filled with pool floats, fresh coconuts cut and served on the spot, fruit sculptures and ice cream galore!
INK – draws inspiration from Japanese long brush painting and tattoo artists. Featuring live Japanese noodle artisans and the interactive culinary experience of building your own ramen.
CAMP - Camp embodies the look and feel of a camping trip. It will feature acoustic guitar throwback sounds and performance art to sit around the campfire and tell stories.
ELEMENT - This PopUpParty draws it's inspiration from earth's natural elements and mineral compounds. The cu- linary experience and aesthetic incorporates crystals, rocks, charcoal, etc.
GRAVEL - Gravel is largely inspired by "on the road vibes", road trips and vintage honda motorcycles. This party will feature vintage motorcycles for photo opportunities and local artisan leather makers.
NATIVE is a rendezvous of the senses that features our favorite farm to table chef, handcrafted cocktails, acoustic sounds and live art demonstrations.
ZODIAC - Inspired by the stars, ZODIAC by PopUpParty will be hosted at rooftop location. With an emphasis on astronomy and astrology it will feature astronomers and have large telescopes that guests can stargaze from.
DISTILLED - Distilled is largely inspired by frontier America. Think moonshine meets lumberjack. This party will feature brass instruments with a folky vibe. It could potentially have a moonshine distillery as an installation or an interactive experience- candle dipping out of a vat.
You're invited to check out www.PopUpParty.party and sign up for updates to be in the "know-how" for these one-off events. You can also follow PopUpParty on Facebook and Instagram.