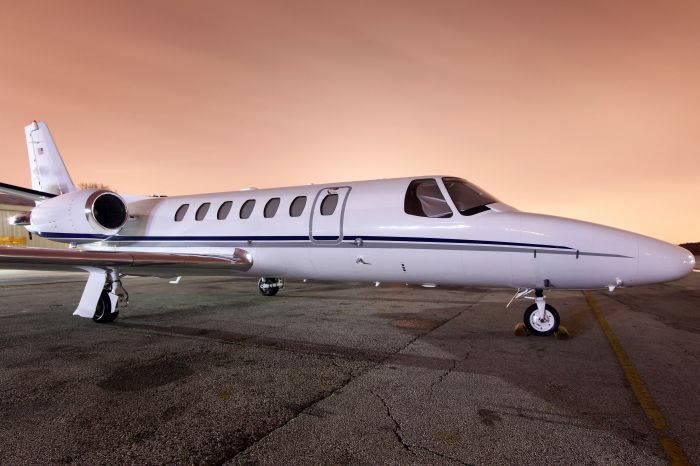 For those traveling to excessively warm or cold climates, the Citation Sovereign, Citation Excel, and Citation Encore are among the best options. Equally important are these jetsí ability to take off and land on short runways (less than 4,000 feet). To increase runway performance, Cessna enlisted an aerodynamicist from NASA, along with one of their own, to develop a redesigned straight wing for the Citation line of jets. A better distribution of air flow resulted in less drag, increasing cruise speeds and decreasing the amount of runway needed. Charter flights to warm and humid destinations such as remote tropical islands, or to high altitude locations like mountain retreats, will often require a jet with these capabilities.
The†Citation Sovereign†is a super midsize jet that comfortably seats 9 passengers. With a ceiling height of 5.7 feet, the cabin is large enough that travelers can stand up, while its baggage capacity is the most of any jet in its class at 135 cubic feet. In addition, its impressive range of 2,950 nautical miles and ability to take off from short runways less than 4,000 feet make the Sovereign an excellent choice for long-range flights in and out of far-off locales with limited runway space and arduous weather conditions.
For charter flights in extremely high temperatures and with very limited runway space, the†Citation Excel†is capable of take off and landing from the runways as short as 3,590, the shortest in its class. The Excelís engine has an increased air-flow thanks to added Pratt & Whitney Canada turbofans to mitigate temperatures. With enhanced engine and airframe technology, this jet out-performs others in its class. For groups of nine passengers or less, this aircraft offers one of the most comfortable cabins available in a mid-size jet.
The most dynamic of the three, the efficient†Citation Encore†is renowned for its plush cabin, versatility and low operating costs. This jet can take off from a runway as short as 3,490 feet at sea level, however the runway distance must increase as the altitude increases. The Encore has anti-icing capabilities, cabin pressurization, and advanced temperature controls, making it adaptable to varied weather conditions and improving its fuel efficiency. Audio jacks, entertainment systems, and power outlets make this jet an excellent choice for busy professionals, while the improved entryway eases the boarding process for passengers in high heels or with limited mobility. At 2,000 nautical miles, the Encoreís max range makes it a good choice for long distance flights, while the onboard amenities and cabin comfort ensure a pleasant flying experience.
†