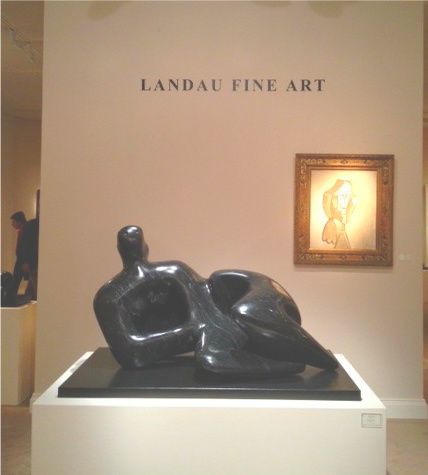 Kimberly Fisher
The champagne flowed and wine glasses were never seen empty on March 15th, 2012 in Maastricht, Netherlands, which marked the opening of the private viewing day of The European Fine Art Fair.
Private viewing day is by invite only, and guests included Queen Beatrix of Netherlands, who was escorted by Baron van Dedem, Chairman of the Board of Trustees of The European Fine Art Foundation.
The Silver Jubilee 25th anniversary of the world's finest art and antiques fair promised to awe private collectors with several pieces never before seen on the market from 265 leading art and antique dealers from 19 different countries. A global gathering of paintings, drawings, jewelry, ancient objects, antiques and rare books, the fair reinforces its commitment to worldwide quality and connoisseurship. The fair will open officially on March 16th, 2012 and run till the 25th.
A black marble sculpture entitled Reclining Figure: Curved by Henry Moore is one of the stars of the show. Never before on the open market, the 144cm long black marble figure dating from 1977 was sold by Moore to an American collector and acquired by Robert Landau of Landau Fine Art of Montreal. The 600kg sculpture is said to be one of the British sculptor's finest pieces and is being priced in the 35 million dollar range.
Another noteworthy piece The Potato Diggers by Vincent van Gogh, priced in the 4 million dollar range. Shown by The Dickenson Gallery of New York and London, this piece was done during a crucial time period in the life of van Gogh when he returned to painting from drawing.
The Daniel Blau gallery from Munich is showcasing over 200 Andy Warhol drawings dated from 1950-1959. The gallery, which specializes in 20th century art, 19th and 20th century photography and tribal art has acquired this unpublished material from the personal estate of Mr. Warhol, and is also on the market for the first-time.
Other highlights include works by Picasso, Chegall and Miro.
To find out more information on The European Fine Arts Fair or to obtain tickets, please see www.TEFAF.com.
Kimberly Fisher
Vincent van Gogh
Kimberly Fisher
Joan Miro