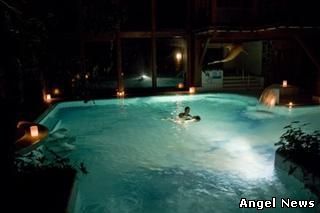 Spa do Puyuhuapi Lodge & Spa
Imagine shut down yourself completely of the world in a secluded spot, surrounded by nature in a bay away from Chilean Patagonia where it comes only by boat, with thermal waters approaching 40 ° of pure relaxation and where the cuisine blending traditional dishes with recipes from Chile and also the Mediterranean. If it was just this, the Puyuhuapi Lodge & Spa already would be perfect for moments of rest and disconnection. But there's a lot more.
The Thermal Spa offers a complete infrastructure and services geared completely to the satisfaction of customers spread over three floors. On the first floor, are the pools for adults and children, with hot and cold water, in addition to the Jacuzzi, steam shower and a rest area that offers guests with a wonderful view of Dorita Bay. On the second floor, is the gym fully equipped, and for those who can't disconnect from work, a meeting room with capacity for 40 people.
The third floor is divided into two towers, used for therapies and treatments that Puyuhuapi Lodge & Spa offers: talaform, balneotherapy, talaterm, bioslim, pressotherapy, relaxation massage, therapeutic massage, Puyuhuapi massage, facials treatments, varnishes exfoliating, body involvement and Watsu therapy. Whoever goes through the place, back home totally relaxed.
Thalassotherapy
Talaform
Massage bath in thermal water and algae in the computerized tub to get a revitalization and relaxation using the beneficial properties of the elements found in seaweed. Help reduce the stress of modern life. (Duration: 25 minutes - Water temperature: 28 º C to 34 C)
Balneotherapy
In the thalaform bathtub, massage is performed by a specialist to strongly stimulate blood circulation. Thanks to the effects of heat can penetrate the body to the regenerative properties of the trace elements present in algae, effectively acting as a firming treatments, anti-cellulite and muscle relaxation. (Duration: 25 minutes - Water temperature: 28 º C to 34 C)
Talaterm
Seaweed wrappers applied in cream form, with a high concentration of trace elements that penetrate the body with help of the heat , achieving a remineralization, elimination of toxins and reductive action. Recommended to reduce fatigue, rheumatism and arthritis, and also reaffirming treatments. (Duration: 30 minutes - Tempeatura cream: 30 ° C to 37 º C)
Bioslim
Application of seaweed body mask-shaped, with a high concentration of trace elements that enter the body through the skin with the aid of moist heat (steam). This treatment helps to eliminate toxins, oxygenate and softening the skin, restoring its elasticity. It is also recommended for joint pain, rheumatism and arthritis. (Duration: 25 minutes - temperature thermal blanket: 35 ° C to 37 º C)
Pressotherapy
Gradually applying pressure on the legs, it stimulates circulation and lymphatic drainage. Highly recommended in cases of fluid retention, cellulite and circulatory problems. (Duration: 30 minutes)
Massages
Relaxation Massage
Performed by a trained therapist, with smooth moves, slow and on the surface, focused on the muscle expansion, can relax the back of the body (neck, shoulders, lower back and legs), reducing muscle fatigue and activating blood circulation. Apply mixtures of moisturizing creams or oils, leaving a very comforting feeling. (Duration: 30 or 60 minutes)
Massage Therapy
Movements are more localized and deep, to relieve a specific pain such as lumbago, sciatic, muscle contraction or some sort of muscle fatigue in sports practice. Applies a mixture of creams or oils beneficial for this type of injury, leaving a feeling of well-being unique. (Duration: 30 minutes)
Massage Puyuhuapi
It is a combination of movements and techniques from various types of massages such as Thai, Hindi or Chiro. To increase their benefits, including aromatherapy, leaving a feeling of physical and spiritual wholeness. (Duration: 60 minutes). After skin evaluation by a cosmetologist, is carried out cleaning, nutrition and hydration according to the needs of every skin type, using the fine products made of marine algae. (Duration: 60 minutes)
Varnishes Exfoliating
It is the application of natural products throughout the body. Then place the guest under a soothing cascade of thermal water, which gently eliminates all traces of the chosen product. Finishing treatment with a spray of "lavender or lemon balm." Promote cellular traffic of the epidermis, leaving a soft feel and pleasure.
Navy: The basis of marine algae and aloe vera.
Sweet: The fruit of the wild region, cinnamon and poppy seeds.
Smooth: The base arrayán honey, oats, cloves and sesame seeds. (Duration: 60 minutes)
Body Wraps
After a body exfoliation, apply the product of choice (coffee, chocolate, purple grape, seaweed) for a body wrap, which is left to act for 20 minutes so that with the help of heat properties of the product can penetrate the epidermis. While the product works, guests relax with a soothing music and enjoy a delicious sense of well-being. (Duration: 45 minutes)
Watsu Therapy
Experience of deep relaxation on the water. With the help of a therapist, your body comfortably floats in the warm water (34 ° to 36 °) while the muscles are massaged, joints moved, the energy channels open and the body is pleasantly lulled by the water. Contact with water generates a freedom of movement that makes Watsu (Water Shiatsu) the most relaxing massage technique that exists. (Available October-March).
About Puyuhuapi Lodge & Spa
http://www.patagonia-connection.com/pt-patagonia-index.php